Posted on
Tue, Dec 11, 2012 : 11:11 a.m.
Kugel latkes combine two Chanukkah favorites
By Mary Bilyeu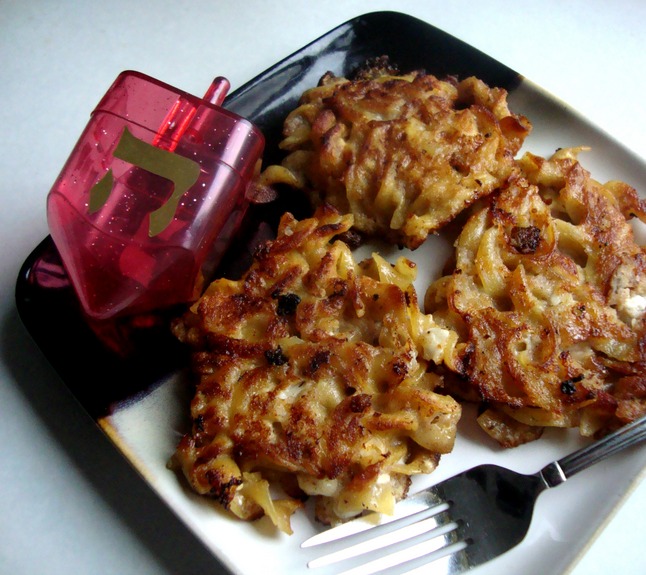 Mary Bilyeu, Contributor
In addition to eating fried foods at
Chanukkah
, to commemorate the miracle of one day's worth of consecrated oil burning for a full eight days, there is a lesser-known
tradition of eating dairy foods
.
Well, then, what better way to celebrate than to fry up some dairy products?
Kugel (a sweet noodle pudding) and latkes (potato pancakes) are two of the great traditional Jewish foods, and among my own personal favorites. And it occurred to me: if everyone loves the crunchy topping that comes from baking the kugel, why not maximize that by frying the mixture rather than cooking it in the oven? Transform the kugel from a casserole into little pancakes!
And so, Kugel Latkes were born one afternoon. Crispy, sweet, creamy with pockets of cottage cheese, fragrant with hints of cinnamon... I have to pat my own back for this little creation. They are so, so good! No redeeming nutritional value, of course; but then, Chanukkah has never been about health food. It's just about fun food.
If you'd like to try other celebratory foods during Chanukkah, which began this past Saturday evening and ends on Sunday, here are some options:
Kugel Latkes
8 ounces egg noodles, prepared according to package directions
3/4 cup cottage cheese
1/3 cup Solo almond pastry filling
1/3 cup sugar
3 eggs
1 teaspoon vanilla extract
pinch of kosher salt
1 teaspoon cinnamon
2 tablespoons matzah meal
oil, for frying
In a large bowl, combine noodles, cottage cheese, almond filling, sugar, eggs, vanilla, salt, cinnamon, and matzah meal; mix well.
Place oil into a large skillet to 1/4-inch depth; heat over medium-high heat.
Drop batter by 1/4-cupfuls into oil; fry 3 minutes or so per side, until golden brown, turning carefully. Remove to drain on a brown paper bag (the latkes tend to stick to paper towels). Continue until batter is used up.
Makes 1 dozen latkes.

Mary Bilyeu writes for AnnArbor.com on Tuesdays, Wednesdays, and Fridays, telling about her adventures in the kitchen - making dinner, celebrating holidays, entering cooking contests, meeting new friends ... whatever strikes her fancy. She is also on a mission to find great deals for her Frugal Floozie Friday posts, seeking fabulous food at restaurants on the limited budget of only $5 per person. Feel free to email her with questions, comments, or suggestions: yentamary@gmail.com.

Go visit Mary's blog — Food Floozie — where she enthuses and effuses over all things food-related; and look for her monthly articles in the Washtenaw Jewish News. "Like" her on Facebook, or send a tweet on Twitter, too.

The phrase "You Should Only Be Happy" (written in Hebrew on the stone pictured in this post) comes from Deuteronomy 16:15 and is a wish for all her readers - when you come to visit here, may you always be happy.