Posted on
Wed, Jan 4, 2012 : 10 p.m.
Black Bean Soup an easy, frugal dish that can be altered to include ingredients you have on hand
By Peggy Lampman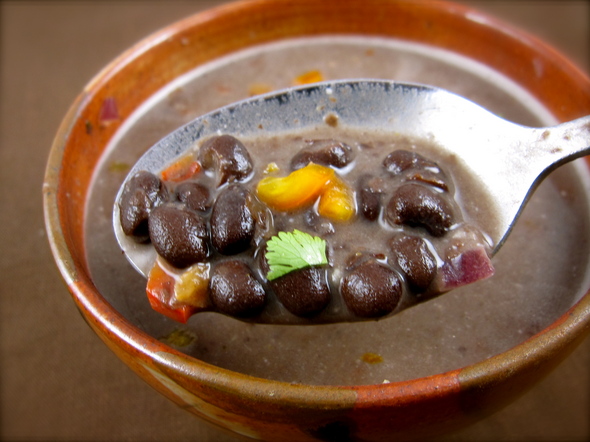 Peggy Lampman | Contributor

mean fighting machine!
For the next three days, I'll be making inexpensive, healthy meals that come together quickly.
Using soaked beans long simmered with a base of chopped vegetables, a meaty bone and spices would be ideal, but I'll save that for another day-perhaps when I'm snowed in. The recipe is home-cooked/fast-food, to be sure. Opening a can of black bean soup would even be quicker, but not as tasty and twice the price.
Note almost half of the ingredients are optional, and may be mixed and matched according to what you have on hand.
Time: 30 minutes
Number of servings (yield): 4-5 cups
Ingredients
2 tablespoons extra virgin olive oil
1 tablespoon minced garlic
1 tablespoon ground cumin
1/2-2 teaspoons red pepper flakes
2 (14 1/2 ounce) cans black beans, one can drained of liquid
1 cup chicken, vegetable or beef stock
3 tablespoons chopped assorted colored bell pepper, diced, optional
3 tablespoons chopped cilantro, optional
2 tablespoons chopped red onion, optional
1/4 cup sour cream or strained yogurt, (2 percent or fat-free is fine), optional
Grated Cheddar or Jack cheese, optional
Instructions
1. In a medium-sized pot, heat olive oil over medium-low heat. Add garlic, cumin and 1/2 teaspoon red pepper flakes. Sauté 1 minute or until garlic is fragrant.
2. Add 1 can of black beans with liquid and 1 cup stock to pot. Bring to a low boil then remove from heat.
3. With a food processor or immersion blender, purée the soup.
4. Stir in the second can of drained beans, peppers, cilantro, onion and sour cream or yogurt into the puréed ingredients and gently heat. Season to taste with kosher salt and additional red pepper flakes to taste.
My new web site (packed with holiday recipes) has recently been launched. (www.dinnerFeed.com)! I'm a real-time food writer and photographer posting daily feeds on my website and in the Food & Drink section of Annarbor.com. You may also e-mail me at peggy@dinnerfeed.com.