Posted on
Mon, Apr 25, 2011 : 11:51 a.m.
Lamb and Lentil Soup
By Peggy Lampman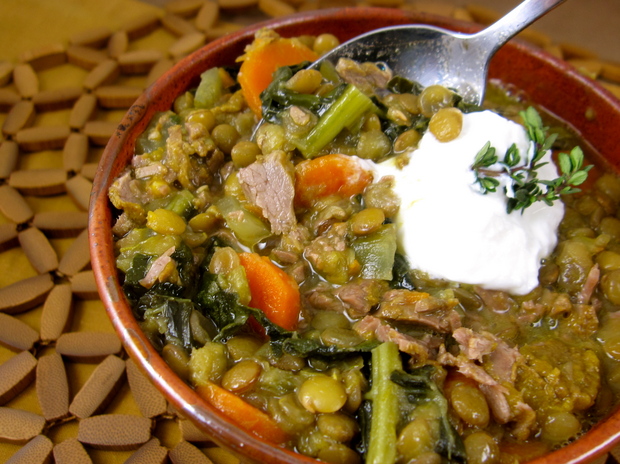 Peggy Lampman | Contributor

Peggy Lampman's Monday dinnerFeed
I make some version of lamb and lentil soup almost every year the day after Easter - I usually make lamb for Easter dinner and there are always leftovers. It's a comforting soup that my mother made filled with earthy flavors, but I desperately hope I won't be craving hot soups through May! I do so yearn for gazpacho days and vichyssoise nights.
Lamb stock makes the best soup, but yesterday's Easter dinner featured, alas, a boneless leg of lamb, so there was no bone to make a stock. Better Than Bouillon always works well in a pinch.
Ham is also a traditional Easter favorite; if you've a dearth of excess, test drive this Split Pea and Ham Soup - seasoning split pea soup with balsamic vinegar and tarragon is revelational!
Yield: 4-6 servings

Active Time: 15 minutes

Simmer Time: 40-60 minutes
Ingredients
2 tablespoons extra virgin olive oil

1 small onion, chopped
2 carrots, chopped
1 celery stalk, chopped
4-6 cups washed, chopped kale
1 tablespoon chopped garlic
1 1/2 cup lentils, picked over and rinsed
6-8 cups lamb, beef or chicken stock
1 and 1/2 tablespoons chopped fresh rosemary or thyme (or 2 teaspoons ground dry)
 2-3 cups (cooked) cubed or shredded lamb
1/4 cup plain yogurt, strained, Greek-style preferred, optional
Directions
1. Heat olive oil in a medium- sized heavy-bottom pot. Add onion, carrots, celery and kale; sauté until lightly browned, about 6-8 minutes. 2. Add lentils to the pan, stir, then add 6 cups stock. Let come to a boil then reduce heat to simmer. Cook about 50-70 minutes, or until lentils are have broken down.
 3. Stir in lamb and rosemary and heat. If soup becomes too thick, add additional stock to desired consistency.
Season to taste with kosher salt and freshly ground pepper.
 4. Serve with dollops of yogurt, if using.
Looking for a specific recipe? Click here for dinnerFeed's recipe search engine; type the recipe or ingredient into the search box. I am a real-time food writer and photographer posting daily feeds on my website and in the Food & Drink section of Annarbor.com. You may also e-mail me at peggy@dinnerfeed.com.