Posted on
Fri, Dec 24, 2010 : 11 a.m.
Last-minute Christmas (beer) shopping
By David Bardallis

Beer news, views, and events
from Ann Arbor and beyond
So, from 9 p.m. tonight to 9 p.m. tomorrow night (Christmas), Caesar has decreed no alcohol sales, which means you also need to get your beer purchasing on even as you finish up all that last-minute shopping. The question, then, naturally arises: Who has the best Christmas beer on tap right now? Let's take a look.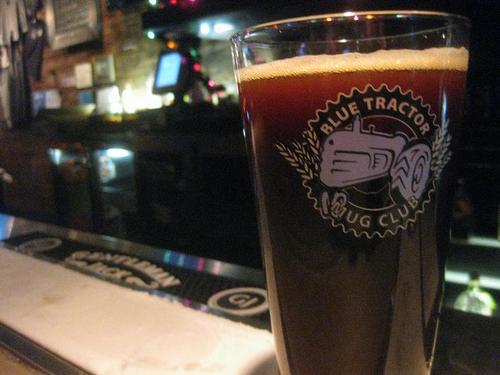 David Bardallis | Contributor
Pouring at Blue Tractor BBQ & Brewery, 207 E. Washington, is the Wassail Ale, brewer Tim Schmidt's Yuletide take on an English-style brown, or mild. It was brewed, according to Tim, with cinnamon, raw and crystallized ginger, juniper berries, star anise and orange peel. The grain bill included pale, caramel, brown and roasted malts, and the whole concoction was lightly hopped with an English variety of hop called Fuggles.The result: a sessionable (4 percent alcohol by volume) ale that pours brown and opaque, emits a malty aroma, tastes predominantly malty and nutty, but finishes with a mild fruity acidity over the lingering maltiness. My taste buds definitely picked up on the ginger and orange peel, but the juniper and anise flavors were so subtle I lost them in the brew's strong maltiness. Very drinkable.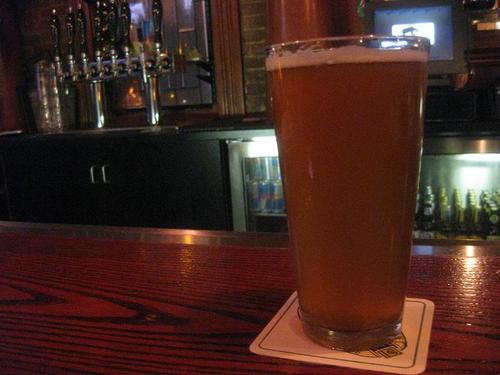 David Bardallis | Contributor
As he does each year, brewer
Duncan Williams
has produced his
White Christmas White Ale
, now on tap at
Grizzly Peak
, 120 W. Washington. It's a stronger, slightly more hopped-up (30
IBU
) version of a Belgian wit, or white ale, a kind of wheat brew traditionally spiced with orange peel and coriander. As one would expect, it pours a hazy whitish-gold, looking similar to a blonde, and has a very floral and malty nose. The body is medium-heavy and divulges a strong fruity taste with a spicy, yeasty finish. I really like wits, so I enjoy this beer, but at 6.8 percent ABV, it's one to be careful with.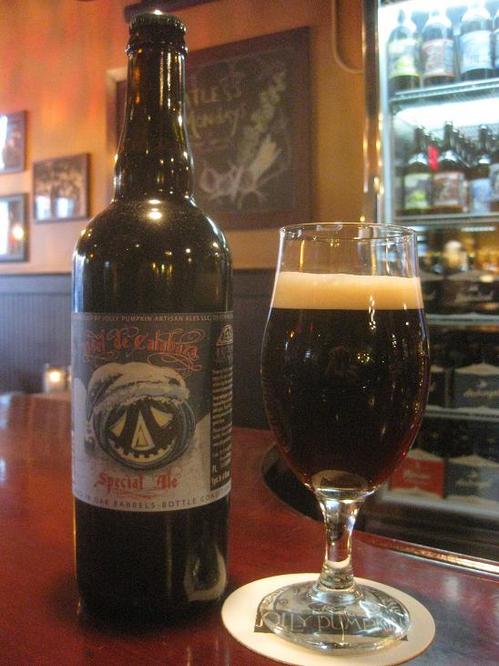 David Bardallis | Contributor
Likewise, brewer Ron Jeffries's perennial favorite, Noel de Calabaza Special Ale, on tap at Jolly Pumpkin Café & Brewery, 311 S. Main, is of "winter warmer" strength at 9 percent ABV. Like all Ron's beers, it's barrel-aged with that funky sourness you either love or not, depending on your tastes. Me? I love.
Noel pours a dark mahogany color with a medium body and carbonation. The nose is overwhelmingly sour and tart smelling. The Brettanomyces yeast did their work, with a sour, funky taste forward, leading into a kind of fruity bitterness, layered with notes of figs, raisins and plums. It finishes with a lingering sourness and, though the many other flavors of this complex ale mask it pretty well, a taste of warming alcohol. An awesome beer.
So who has the best Christmas beer in town? Well, that's pretty subjective depending on your mood and taste, but in my opinion, you can't go too wrong with any of these three. You can get all of them to go from their respective locations, though unfortunately Jolly Pumpkin won't do growler fills of Noel (they sell bottles, however).
And if you're not in the mood for ginger, orange peels, plums, or any other Christmassy beer ingredients, don't forget Wolverine State Brewing, 2019 W. Stadium, is open until 4 p.m. today selling growlers of their beer for half off.
Whatever you choose to drink, have a warm, safe, and joyous Christmas!
David Bardallis is a freelance writer and editor, blogger, bon vivant, and man about town. Visit "All the Brews Fit to Pint" at AnnArborBeer.com, follow @dbardallis on Twitter, or join the "All the Brews Fit to Pint" Facebook page.. Email your beer-related thoughts to annarborbeer@gmail.com.