Posted on
Mon, Dec 12, 2011 : 4:11 p.m.
Last-minute donations help Rockin' for the Hungry meet 200 ton goal
By Julie Baker
Rockin' for the Hungry is always a nail-biter at the end, organizers say.
An $8,000 walk-in donation Monday morning, plus another $8,000 from online donations and food drive sponsors, gave Food Gatherers a much-appreciated boost in the final hours of the five-day event.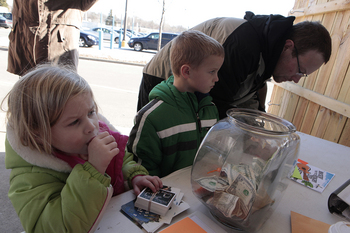 Chris Asadian I For AnnArbor.com
Food Gatherers ended up with a grand total of 203 tons of food donated during the annual event — 3 tons more than the goal of 200 tons.
"We're grateful to the community for coming out and supporting this event," said Mary Schlitt, development director for Food Gatherers. "We feel the love."
Throughout the event, hosts from Ann Arbor's 107one were broadcasting live outside the Kroger store at 400 S. Maple Road in shifts. Food or cash donations were being collected at all Kroger locations within Washtenaw County.
AnnArbor.com tracked the progress toward meeting the goal on a carrot-o-meter, which was updated regularly throughout the drive.
The combination of an increase in online donations, more opportunities to donate at Kroger locations and this year's Rockin' Afterglow party (open to the public) all helped the cause.
The food collected during Rockin' will go toward Food Gatherers' many partner agencies in Washtenaw County. Schlitt said organizers hope the food will last until March, although it's difficult to foresee how much need there will be in the community.
Schlitt said she continues to be amazed at how people give, with many families using the event as a teaching moment for their children. One woman and her teenage son donated a full cart of groceries from Kroger. Another father brought his kids so that they could donate their allowances.
It also helped that Kroger was running specials on in-demand items, such as tuna fish, peanut butter and baby formula, Schlitt said. "Those are great items we just can't get a good price on, and we get bulk prices."
Turnout also was great Sunday night for the Rockin' Afterglow at Wolverine State Brewing Co., featuring live music from Dale Earnhardt Jr. Jr. and free food from Cottage Inn. Schlitt said this was the first year the afterparty was open to the public, and she said it was nice to show appreciation for all the Rockin' for the Hungry sponsors.
Contact Julie Baker at juliebaker@annarbor.com or 734-623-2576. Follow her on Twitter @juliebakera2.