Posted on
Thu, Apr 15, 2010 : 6:30 a.m.
Speedy Sausage Sandwiches
By Mary Bilyeu

Last night was a gorgeous, sunny evening in Ann Arbor. And thus there was only one conceivable notion when considering how to prepare dinner: the great outdoors, or at least our backyard. Jeremy has become quite the grill-master, making food that is not only exceptionally good but which also bears his pride and joy — perfect grill marks.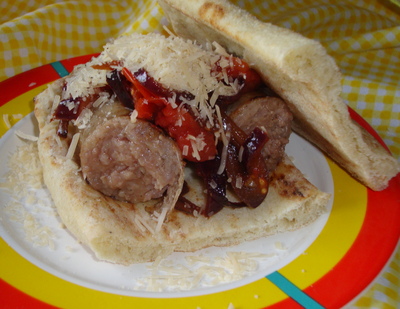 Mary Bilyeu, Contributor

So I volunteered him to cook some Italian sausages to his own exacting standards, while I proceeded to sauté some red onion and tomatoes in a bit of olive oil mixed with balsamic vinegar. A little shredded Parmesan, the beautiful long oval breads (naan, technically, but it worked!) that I'd bought at Trader Joe's the day before ... put it all together, and dinner was served.
We used sweet Italian sausage for this because Jeremy doesn't like spicy food; but it would really be exceptional with hot sausage, and maybe with some fresh spinach tossed in with the tomatoes and onions. But considering that I hadn't planned for our evening meal, and this only came to me on the spur of the moment, I'm pretty proud of myself (and of Jeremy)! It was really exceptional and comes highly recommended for a fast, easy and delicious dinner.
Italian Sausage Sandwiches
5 Italian sausage links
3 tablespoons extra-virgin olive oil
2 tablespoons balsamic vinegar
1 large red onion, halved, sliced thin
1 12-ounce container grape tomatoes, halved
1/2 teaspoon kosher salt
pinch of red pepper flakes
1 teaspoon Italian seasoning
1/2 cup shredded Parmesan
1 18-ounce package Trader Joe's naan
Grill the sausages for 10-15 minutes, until firm.
Meanwhile heat the oil and vinegar in a 10" skillet over medium heat. Add the onion, tomatoes, salt, red pepper flakes and Italian seasoning; cover and cook for 5 minutes, stirring occasionally, until the vegetables have softened.
Cut one piece of the naan in half cross-wise, then cut a sausage in half and lay both halves next to each other on one half of the bread. Top with some of the vegetables mixture and a sprinkling of cheese, then cover with the remaining bread half. Repeat with the remaining ingredients until 5 sandwiches have been formed.
Serves 4, if one of those 4 is a teenage male who will inevitably eat 2 sandwiches.
Mary Bilyeu has won or placed in more than 60 cooking contests and writes about her adventures as she tries to win prizes, feeds hungry teenagers and other loved ones and generally just has fun in the kitchen. The phrase "You Should Only Be Happy" (written in Hebrew on the stone pictured next to the blog's title) comes from Deuteronomy 16:15 and is a wish for all her readers as they cook along with her ... may you always be happy here! You can contact Mary at yentamary@gmail.com or follow her on Twitter (twitter.com/foodfloozie). And look for her new food blog: foodfloozie.blogspot.com.