Posted on
Fri, Sep 10, 2010 : 8:30 p.m.
Learn to make and preserve corn relish at Ann Arbor Farmers Market Saturday
By Jessica Webster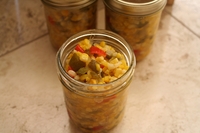 Photo by Flickr user whitneyinchicago
Want to preserve some of that fresh sweet corn? Stop by the Ann Arbor Farmers Market any time between 8 a.m and 10 p.m. on Saturday for an educational demonstration on the making of corn relish. Local "canning maven" Cynthia, who writes
an excellent food blog
, will be leading the demo.
Once you've learned how to make and preserve corn relish, check out Cynthia's blog for more canning advice and tips on labeling your canned goods.
The Ann Arbor Farmers Market takes place every Wednesday and Saturday, from 7 a.m. to 3 p.m. at 315 Detroit St. in the Kerrytown district.