Posted on
Tue, Apr 16, 2013 : 11:30 a.m.
Leek and Morel Sauce for a springtime beef dish
By Mary Bilyeu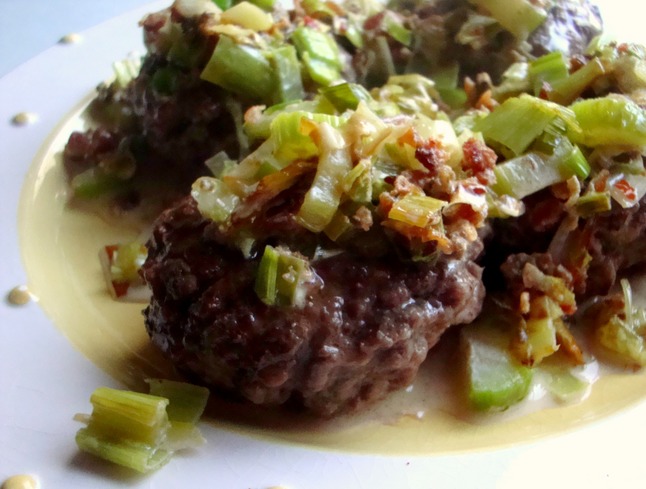 Mary Bilyeu | Contributor
Jeremy and I stopped by
The Produce Station
recently because I'd read on
the store's Facebook page
that "
Morel Mushrooms
are here!" Morels are Jeremy's favorites. He has very little use for the inexpensive white button mushrooms; he'd rather have the rich, luscious morels.
But you don't have to spend the proverbial fortune on these seasonal delicacies; I bought a small handful for $3.60 (with many thanks to the employee who took the time to let me pick a few and then took them for packaging and pricing, when I couldn't find a small container and didn't need a large one). And just those few morels will provide a tremendous flavor to this fabulous chicken dish I prepared last year or to this creamy sauce that I served over beef patties. Leeks and morels are a perfect combination, heralding the arrival of spring.
Served with rice or noodles, or maybe with potatoes, this is a lovely dish to enjoy when springtime light, buds, birds, and hints of warmth are starting to appear, but there's also still a bit of a chill in the air. The leeks are tender, the bacon adds a bit of crunch, the morels infuse the meal with sophistication, and the sauce elevates a seemingly simple meal into something very special.
Beef with Springtime Leek and Morel Sauce
Patties:
1-1/4 pounds ground beef
kosher salt
freshly ground black pepper
Gently mix together beef with salt and pepper to taste. Divide into 4 patties.
Heat a skillet and cook patties over medium heat for 5-7 minutes per side, to desired doneness.
Sauce:
4 strips bacon
1 large leek, ends trimmed, quartered lengthwise, sliced thin
1/4 cup morels, finely chopped
pinch of red pepper flakes
1/2 cup half-and-half
Cook bacon in a large skillet over medium heat, until crisp; remove bacon from pan, drain on paper towels, and chop fine.
Add leeks to the skillet with the bacon fat; cook over medium heat for 5 minutes. Add the chopped bacon, the morels, and the red pepper flakes; cook for 5 more minutes, stirring occasionally. Stir in the half-and-half and cook for 2 minutes to reduce the sauce slightly.
Place patties onto a serving platter and pour sauce over the top.
Serves 4.

Mary Bilyeu writes for AnnArbor.com on Tuesdays, Wednesdays, and Fridays, telling about her adventures in the kitchen - making dinner, celebrating holidays, entering cooking contests, meeting new friends ... whatever strikes her fancy. She is also on a mission to find great deals for her Frugal Floozie Friday posts, seeking fabulous food at restaurants on the limited budget of only $5 per person. Feel free to email her with questions, comments, or suggestions: yentamary@gmail.com.

Go visit Mary's blog — Food Floozie — where she enthuses and effuses over all things food-related; and look for her monthly articles in the Washtenaw Jewish News. "Like" her on Facebook, or send a tweet on Twitter, too.

The phrase "You Should Only Be Happy" (written in Hebrew on the stone pictured in this post) comes from Deuteronomy 16:15 and is a wish for all her readers - when you come to visit here, may you always be happy.