Posted on
Fri, Nov 23, 2012 : 4:57 a.m.
Leftover Holiday Enchiladas come to the rescue when you don't want another turkey sandwich
By Peggy Lampman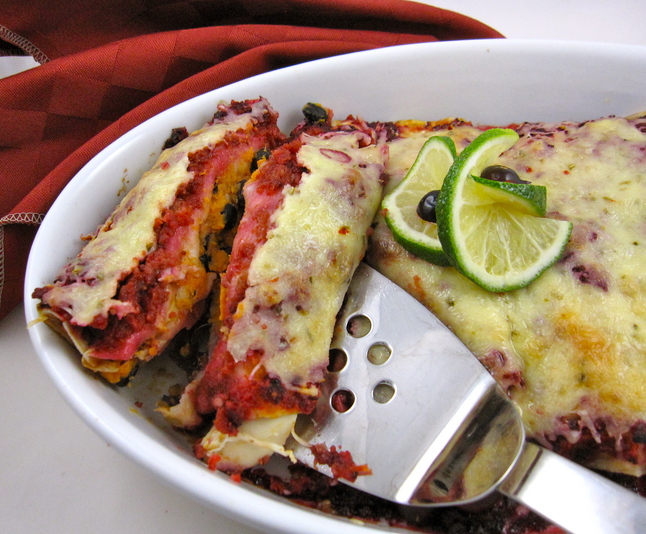 The new Holiday Cookbook answers all of your cooking needs. Strapped for time? Check out the well-tested Super-Simple section.
Good Morning Black Friday — the day retailers across the land's join in a fervent prayer hoping that their numbers go from "in the red" to black, at least that's the idea. Today retail outlets across the nation will be clogged (again, hopefully!) with shoppers looking for deals, and aiming to get a jump start on the gift-giving season.
It's also the day when the internet will be clogged with recipes advising what to do with your Thanksgiving leftovers. I posted a detox recipe yesterday for Turkey Quinoa Soup yesterday, here's another way to use even more goodies from the holiday table.
Active Time (if using leftovers): 25 minutes
Bake Time: 30 minutes
Yield: 10 enchiladas
Ingredients:
1 1/2 cups of your favorite salsa (I used a red tomato-chipotle)
1 1/2 cups cranberry relish*
3 cups of cooked turkey,* torn
2 tablespoons lime juice
2 cups cooked mashed sweet potato or squash*
1 1/2 teaspoons cumin
1 (15 ounce) can black beans, drained and rinsed
Canola or vegetable oil, as needed
10 (7-inch) corn tortillas
2 cups shredded Jalapeño Jack cheese
Directions
1. Preheat oven to 350 degrees.
2. Combine salsa and cranberry relish. Pour 1 1/2 cup of salsa mixture into the bottom a lightly oiled baking dish, large enough to accommodate enchiladas.
3. Place the torn turkey pieces into a bowl and toss with lime juice. Season to taste with kosher salt and freshly ground pepper. Combine sweet potatoes or squash with cumin and black beans. Add kosher salt to taste.
4. In a sauté pan large enough to accommodate a tortilla, heat 1 teaspoon oil. Cook one corn tortilla until softened, turning it once.
5. Place the tortilla into the sauced dish. Spoon 3 tablespoons sweet potato-black bean mixture down center of tortilla. Sprinkle with turkey. Roll up the enchilada- seam side down, and place it at the far end of the dish. Repeat for the remaining tortillas, adding more oil, if needed to soften them.
6. Pour the remaining salsa over the tortillas. Sprinkle with cheese.Bake on center rack of oven until enchiladas are bubbling and heated through, about 30 minutes.
*Thanksgiving leftovers work well
Peggy Lampman is a real-time food writer and photographer posting daily feeds on her website and in the Food & Grocery section of Annarbor.com. You may also e-mail her at peggy@dinnerfeed.com.