Posted on
Fri, Nov 30, 2012 : 4:31 a.m.
Lemon-Dill Chicken Thighs with Artichokes over Couscous - a sunny dish for cool autumn days
By Peggy Lampman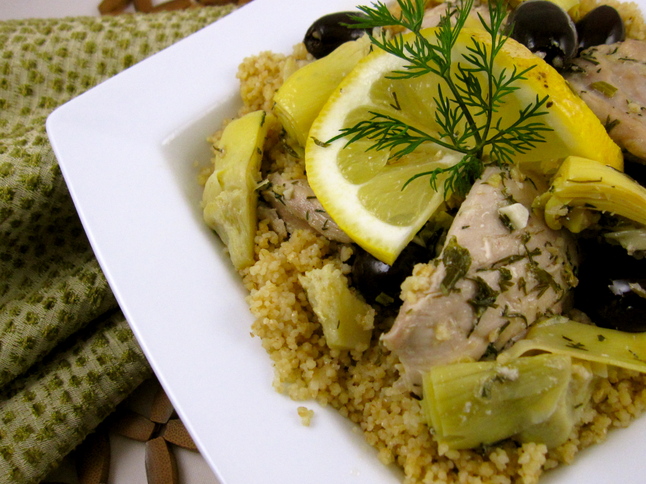 Peggy Lampman | Contributor

The new Holiday Cookbook answers all of your cooking needs. Strapped for time? Check out the well-tested Super-Simple section.
A sunny dish seasoned with fresh dill and lemon sounds appealing; I'm a bit OD'ed on the Thanksgiving flavors of thyme and sage.
To cut calories you could substitute boneless, skinless chicken breasts for thighs. The dish won't be as rich, and will be a bit pricier, but you may want to save the fat, especially at this time of the year. The cooking time of the chicken should be decreased by about 5 minutes on each side.
If you're ready to bring out the slow cooker, here's a Greek lemon chicken recipe with similar flavors that incorporates potatoes. Make sure to use the bone-in chicken thighs, however, with this recipe, as chicken breasts would overcook.
Marinate Time: 1-4 hours
Active Time: 30 minutes
Yield:: 4 servings
Ingredients
Zest and juice from 1 lemon (3 tablespoons juice; 2 teaspoons chopped zest)
1 teaspoon minced garlic
1/2 cup finely chopped fresh dill
1/4 cup extra virgin olive oil
1 1/2 pounds (6) skinless,boneless chicken thighs, cut in half through center
1 (14 ounce) can quartered artichoke hearts, drained and rinsed
1/2 cup kalamata olives
1 1/2 cups dry, instant couscous
Instructions
1. Make a marinade by whisking together lemon juice and zest, garlic, dill and olive oil.
2. Lightly season chicken thighs with kosher salt and freshly ground pepper. Toss well with the marinade and let sit, 2-4 hours, in marinade turning once.
3. Bring a large heavy bottomed sauté pan or Dutch oven over medium heat. Cook chicken, with marinade, about 10 minutes on each side. In last 2 minutes of cooking time, stir in artichoke hearts and kalamata olives.
4. While chicken is cooking, cook couscous according to package instructions. Serve chicken over couscous topped with pan juices.
Peggy Lampman is a real-time food writer and photographer posting daily feeds on her website and in the Food & Grocery section of Annarbor.com. You may also e-mail her at peggy@dinnerfeed.com.