Posted on
Wed, Nov 16, 2011 : 2 p.m.
Lemon-Dill Chicken Thighs with Artichokes over Couscous - a delicious dinner for 4 costs $11
By Peggy Lampman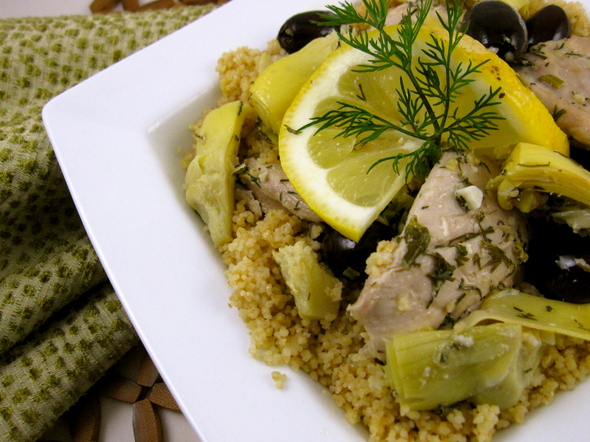 Peggy Lampman | Contributor

Peggy Lampman's Wednesday dinnerFeed:
Here's a delicious meal to serve three or four people that will set you back around $11. Seriously. It's a meal for those of us who have champagne taste, but are on a beer budget.
And if you're lucky enough to be on a champagne budget, you will still enjoy the bright flavor of lemon-enhanced chicken thighs. I choose thighs because they are juicier than the breasts, but substitute breasts if you prefer.
It's an easy recipe to pull together, but you need to think ahead; the chicken really does need that marinade to develop those crisp, sunny flavors.
Yield: 4 servings
Marinate Time: 2-4 hours
Active Time: 30 minutes
Ingredients
Zest and juice from 1 lemon (3 tablespoons juice; 2 teaspoons chopped zest)
1 teaspoon minced garlic
1/2 cup finely chopped fresh dill
1/4 cup extra virgin olive oil
1 1/2 pounds (6) skinless, boneless chicken thighs, cut in half through center
1 (14 ounce) can quartered artichoke hearts, drained and rinsed
1/2 cup kalamata olives
1 1/2 cups dry, instant couscous
Directions
1. Make a marinade by whisking together lemon juice and zest, garlic, dill and olive oil.
Lightly season chicken thighs with kosher salt and freshly ground pepper. Toss well with the marinade and let sit, 2-4 hours, in marinade turning once.
2. Bring a large heavy bottomed sauté pan or Dutch oven over medium heat. Cook chicken, with marinade, about 10 minutes on each side. In last 2 minutes of cooking time, stir in artichoke hearts and kalamata olives.
3. While chicken is cooking, cook couscous according to package instructions. Serve chicken over couscous topped with pan juices.
My new web site (packed with holiday recipes) is coming soon! But in the meantime, If you're looking for a specific recipe, click here for dinnerFeed's recipe search engine; type the recipe or ingredient into the search box. I am a real-time food writer and photographer posting daily feeds on my website and in the Food & Drink section of Annarbor.com. You may also e-mail me at peggy@dinnerfeed.com.