Posted on
Wed, May 30, 2012 : 3 p.m.
Lemon dill sauce brightens up a plain turkey sandwich
By Mary Bilyeu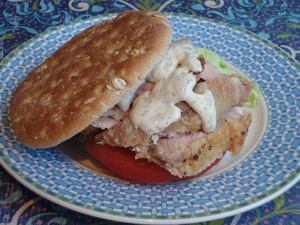 Mary Bilyeu | Contributor
A turkey sandwich is a simple pleasure, and my favorite way to use up Thanksgiving leftovers. But you can buy turkey breasts, thighs, and legs all year 'round, and they're great when marinated and cooked on the grill. Or you could roast them. Or deep fry them. Whatever strikes your fancy.
I happened to have some turkey meat just waiting for a sandwich, but I wanted to spiff up this everyday basic just a bit. So instead of using plain ol' mayonnaise, I made a simple lemony dill sauce instead. A schmear of that brought a bright and vibrant flavor to my sandwich, taking it beyond the routine and turning it into something special for a summery day.
Lemon Dill Sauce
1/2 cup mayonnaise
1 tablespoon fresh lemon juice
1 teaspoon dried dill
pinch of kosher salt
Stir ingredients together. Serve on sandwiches, with fish, or any other way that strikes your fancy.

Mary Bilyeu
writes about her adventures in the kitchen - making dinner, celebrating holidays, entering cooking contests ... whatever strikes her fancy. She is also on a mission to find great deals for her Frugal Floozie Friday posts, seeking fabulous food at restaurants on the limited budget of only $5 per person. Feel free to email her with questions or comments or suggestions:
yentamary@gmail.com
.
You should visit Mary's blog — Food Floozie — on which she enthuses and effuses over all things food-related. And be sure to look for her monthly articles about holiday foods and traditions in the Washtenaw Jewish News.
The phrase "You Should Only Be Happy" (written in Hebrew on the stone pictured in this post) comes from Deuteronomy 16:15 and is a wish for all her readers - when you come to visit here, may you always be happy.