Posted on
Mon, Apr 22, 2013 : 10:47 a.m.
Lemon-Mint Salmon Fillet with Roasted Potatoes is an easy one-pan dinner
By Peggy Lampman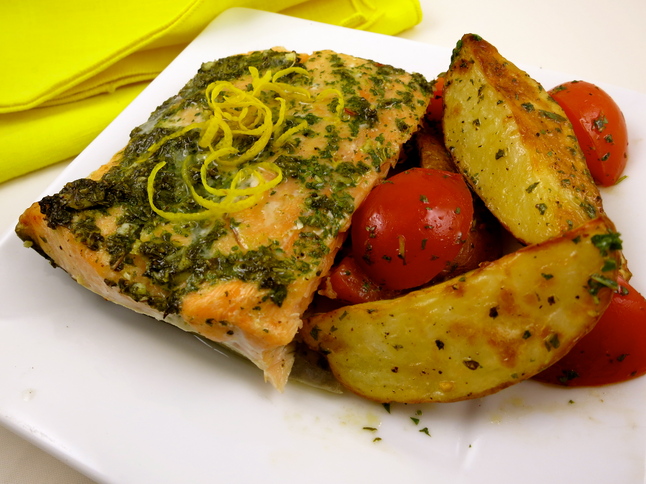 Peggy Lampman | Contributor

My dinnerFeed web site is a lean,
mean fighting machine!
To receive my lastest dinnerFeed posts
by email, sign up here.
Here's an easy all in one pan dinner recipe where the dressing works double-duty to season the salmon as well as the roasted potatoes.
Here's how it works: Make the dressing and use part of it to marinate the salmon. While the salmon is marinating, preheat your oven then roast the potatoes several minutes. Remove the potatoes from the oven, make space for salmon on the baking sheet, then return the kit-and-caboodle to the oven until both are cooked to your liking.
When all is complete, toss the potatoes with the tomatoes and remaining vinaigrette. Redundant flavors? Nah. The marinade mellows in the oven then provides a lovely complement to the fresh minty spark on the accompanying potatoes.
Yield: 4 servings

Marinate Time: 30 minutes

Bake Time: 8-12 minutes

Active Time: 20 minutes
Ingredients
1 cup lightly-packed fresh mint leaves, stems removed

3 tablespoons lemon juice plus zest, if desired for garnish

1 tablespoon honey or agave

1 teaspoon minced shallot

4 tablespoons extra virgin olive oil, divided

2 (center cut) salmon fillets, 3/4-1 pound each

1 pound redskin potatoes, quartered

4-6 Campari tomatoes, quartered

Directions
1. Place mint, lemon juice, honey, shallot and 2 tablespoons of the olive oil in a food processor. Puree. Spoon 1 tablespoon over each piece of salmon, which has been lightly seasoned with kosher salt and freshly ground pepper, and let marinate 30 minutes. Set aside remaining dressing.

2. Preheat oven to 400 degrees.

3. Toss quartered potatoes with remaining oil and lightly season with kosher salt and freshly ground pepper. Place on foil or parchment-lined baking sheet and roast 12 minutes. Remove and turn potatoes over. Place salmon on baking sheet and return potatoes and salmon to the oven. Cook an additional 10-12 minutes or until salmon and potatoes are cooked to the desired level of doneness, keeping in mind salmon will continue to cook after removed from the oven.

4. Toss potatoes with tomatoes and reserved dressing. Garnish salmon with lemon zest, if desired, and served with potato-tomato mixture.
Peggy Lampman is a real-time food writer and photographer posting daily feeds on her website and in the Food & Grocery section of Annarbor.com. You may also e-mail her at peggy@dinnerfeed.com.