Posted on
Mon, Nov 19, 2012 : 9:27 a.m.
Lemon-Sage Wild Rice is the perfect autumn side dish
By Peggy Lampman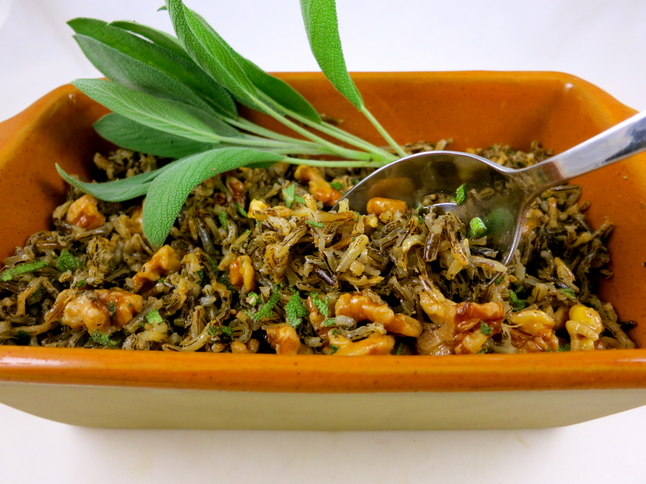 Peggy Lampman | Contributor

My dinnerFeed web site is a lean,
mean fighting machine!
To receive my lastest dinnerFeed posts
by email, sign up here.
'Tis the season for making stuffings and sides that go with roast chicken and turkey. 'Tis also the season for
wild rice
, which seems to make it to my table on a regular basis in November.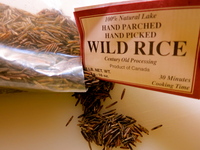 Wild Rices vary considerably, but most, however, are mass-produced and anything but "wild." Wild rice is actually an aquatic grass, and if you can get your hands on hand-harvested wild rice, go for it. I get Canadian Wild Rice from a smokehouse just across the Mackinac Bridge in the Upper Peninsula, but you can purchase "really wild wild rice" at Zingerman's. In fact, click
here
to read what Ari Weinzweig has to say on the subject.
This recipe is packed with November flavor. In fact, anytime I make a dish using fresh sage — even if it's served in the middle of July — the comment is: "This tastes like Thanksgiving". Last week I made fried sage leaves, which "... tastes like Thanksgiving".
This delicious rice dish would be quite substantial with the addition of cooked sausage; now we're talking turkey. In fact, that reminds me of my all time favorite wild rice stuffing made with fennel and Italian sausage; a regular addition to my Thanksgiving table.
Yield: about 5 cups
Active Time: 10 minutes
Cook Time: about 30 minutes
Ingredients:
1 cup wild rice
Chicken stock, as needed
2 tablespoons unsalted butter, extra virgin olive oil, or a combination of the two
1- 2 tablespoons lemon juice
2 teaspoons - 2 tablespoons fresh chopped sage
1 cup toasted pecans or walnuts
Directions:
1. Rinse rice well and cook according to package instructions, substituting chicken stock for water. (Note that cooking times are not always accurate on the labels; make sure to check your rice before the recommended cooking time so you aren't in danger of overcooking and losing texture.)
2.Season cooked rice with 1 tablespoon lemon juice and 2 teaspoons sage, then toss with toasted nuts. Season to taste with enough sage to hit your sweet spot, lemon juice, kosher salt and freshly ground pepper.
Peggy Lampman is a real-time food writer and photographer posting daily feeds on her website and in the Food & Grocery section of Annarbor.com. You may also e-mail her at peggy@dinnerfeed.com.