Posted on
Fri, May 31, 2013 : 4:58 a.m.
Lemony Skillet Chicken with Roasted Garlic & Radishes - tart flavor will delight citrus lovers
By Peggy Lampman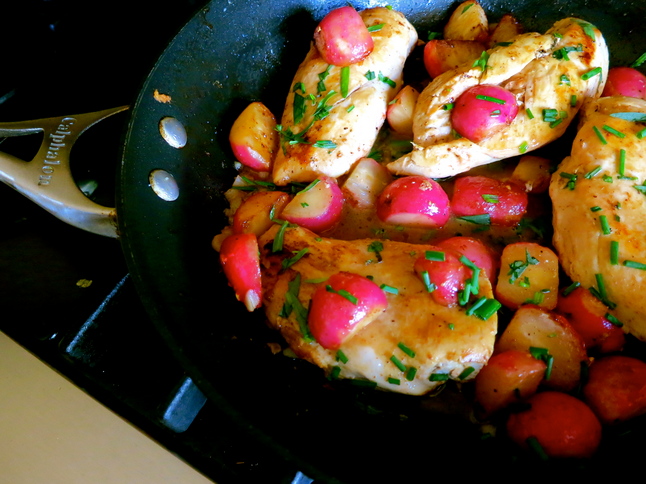 Peggy Lampman | Contributor

To receive my lastest dinnerFeed posts
by email, sign up here.
I've roasted garlic cloves hundreds of times in the oven; this is the first time I've roasted - rather, toasted - whole, unpeeled garlic cloves on top of the stove.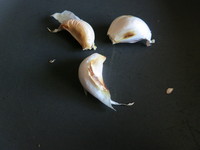 They were quick and easy to toast, with that creamy, sweet flavor roasting garlic provides. The technique is worth your attention, if nothing else about the recipe. But then again, if you've never cooked radishes before, this recipe may warrant another once over.
This pucker-up dish is a lemon-lover's delight; substitute white wine for the citrus if you prefer.
Ingredients:
3 large unpeeled garlic cloves
4 (approx.1 1/2 pounds) skinless boneless chicken breast halves (air-chilled, preferred)
10 radishes (such as red globe, pink, purple, and white), green tops trimmed off and halved lengthwise
2-4 tablespoons butter
1/3 cup lemon juice
1 heaping tablespoon chopped fresh tarragon
2-3 tablespoons snipped fresh chives
Directions
1. Heat large saute pan over medium heat. Add garlic cloves and cook until browned in spots and tender when pierced, turning occasionally, about 15 minutes. Remove from pan and cool.
2. Meanwhile, lightly season chicken with kosher salt and freshly ground pepper. Melt 2 of the tablespoons of butter in pan over medium-high heat. Add radishes, cut side down, and cook without stirring until radishes begin to brown, about 4 minutes. With tongs, turn radishes over and move to side of pan. Add chicken and cook until browned and cooked through, 4-7 minutes per side, depending on thickness of breast. Transfer chicken and radishes to plate (do not clean skillet).
3. Peel garlic and chop. Add garlic and wine to same skillet; mashing garlic with fork, and cook about 1 minute. Return chicken to skillet with any accumulated juices and herbs. Simmer to heat through, turning occasionally, 1 to 2 minutes. Transfer chicken and radishes to plate; spoon sauce over.

Peggy Lampman is a real-time food writer and photographer posting daily feeds on her website and in the Food & Grocery section of Annarbor.com. You may also e-mail her at peggy@dinnerfeed.com.