Posted on
Thu, Dec 1, 2011 : 2:05 p.m.
Linguine with cauliflower and sage brown butter is an easy weeknight meal
By Jessica Webster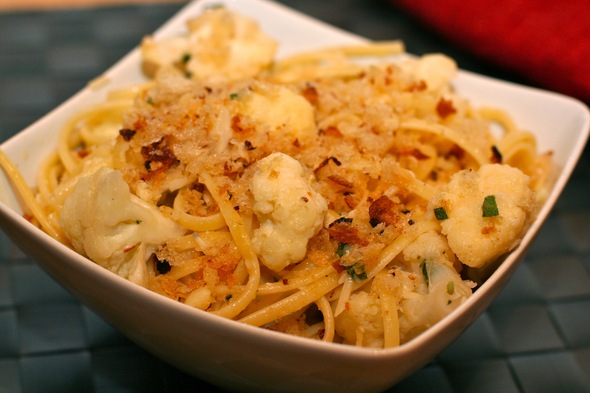 Jessica Webster | AnnArbor.com
I love
sage
. I love it in turkey stuffing, in a soup with squash, or scrambled with eggs. I love it enough to just fry it up and eat it all by itself. And it turns out that the herb is pretty good for you, too. Historically, sage has been used as everything from a fertility treatment in ancient Egypt to a German remedy for excessive perspiration.
I've never tried either of those uses, but I'm a big fan of eating it, especially this time of year. Because it pairs so well with fall vegetables and flavors, I've been on the hunt lately for new sage recipes. This one leaped off the page when I was flipping through an issue of America's Test Kitchen's "30-Minute Suppers."
True to its name, the recipe really did come together in 30 minutes. It's simple enough that even my picky 9 year old enjoyed it, and it's filling enough that lasted for two meals for the three of us — once as a main course and once as a side dish.
A tip on browning the butter: The America's Test Kitchen crew recommends using a saucepan or skillet with a light-colored interior so that you can more easily tell when the butter has browned.
Linguine with cauliflower and sage brown butter from America's Test Kitchen
2 slices hearty white sandwich bread, torn into large pieces
8 tablespoons unsalted butter, divided into 8 pieces
salt and pepper
3 garlic cloves, minced
2 tablespoons chopped fresh sage leaves
1 shallot, minced
1 head (about 2 pounds) cauliflower, cored and cut into 1-inch florets
1/2 cup low-sodium chicken or vegetable broth
1 teaspoon cider vinegar
1 pound linguine
1/2 cup shredded Parmesan cheese
1. Bring 4 quarts water to boil in a large pot. Pulse bread in food processor until coarsely ground, about 6 pulses. Melt 1 tablespoon butter in a large skillet over medium heat. Add bread crumbs and 1/2 teaspoon of salt and cook, stirring frequently, until golden brown, about 4 minutes. Add garlic and continue to cook, 1 minute. Transfer to bowl.
2. Add 5 tablespoons butter to empty skillet over medium heat. Cook butter, swirling pan, until butter is browned and gives off an aroma of toasted nuts; about 5 minutes. Remove from heat, add sage and shallot, and stir to combine. Transfer to bowl.
3. Melt remaining butter in skillet over medium-high heat. Add cauliflower and cook until spotted brown, about 5 minutes. Add broth, 1/2 teaspoon salt, and 1/4 teaspoon pepper. Reduce heat to medium-low and cook, covered, until cauliflower is tender, 5 to 7 minutes. Add brown butter and vinegar and stir to combine.
4. Meanwhile, add linguine and 1 tablespoon salt to boiling water and cook until al dente. Drain pasta and return to pot. Add cauliflower mixture and cheese and toss to coat. Serve, topping each portion with bread crumbs.
Serves 4.
Jessica Webster leads the Food & Grocery section for AnnArbor.com. You can reach her at JessicaWebster@AnnArbor.com.