Posted on
Mon, Dec 20, 2010 : 7:18 a.m.
Local company Locavorious makes strawberry rhubarb pie possible in December
By Sarah Finks
Sarah Finks | Contributor
I picked up our monthly share of
Locavorious
fruits and vegetables from
Morgan and York
last week. Along with the corn, stewed tomatoes, cranberries, squash, edamame, peppers and blueberries, I found one bag of strawberries and one bag of rhubarb. This discovery sent my foodie brain in motion. Finally after much consideration, I decided to make a delicious strawberry rhubarb pie. Not very seasonal, I know, but what is seasonal in the middle of winter in Michigan?
Strawberry Rhubarb Pie

Ingredients for pie:
2 cups strawberries (fresh or defrosted)
2 cups diced rhubarb stalk, skin on (fresh or defrosted)
1 cup sugar
1/4 cup flour
1 tablespoon tangerine juice
1 pie crust top and bottom
butter
Egg wash ingredients
1 beaten egg
1 tablespoon water
sugar
Directions:
1. Preheat over to 450 degrees and place pie crust in a pie plate.
2. In a large bowl combine the fruit, flour, sugar, and juice. Mix until just combined and let sit for 15 minutes.
3. Pour fruit mixture into prepared pie crust.
4. Dot with butter
5. Place either a very well pricked pie crust on top or you can use a lattice top.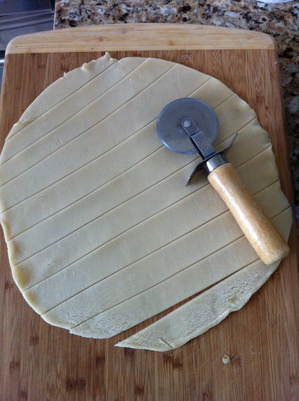 Using a pizza cutter is a great way to make your lattice top.
Sarah Finks | Contributor
6. Combine the egg and water and brush onto the assembled pie.
7. Sprinkle the top with a generous amount of sugar.
8. Place in the center rack of the 450 degree oven and bake for 10 minutes. Turn the heat down to 350 degrees and bake for an additional 40 minutes or until the crust is golden and the pie is bubbling. If the crust begins to brown too quickly, place aluminum foil around the edge of the pie.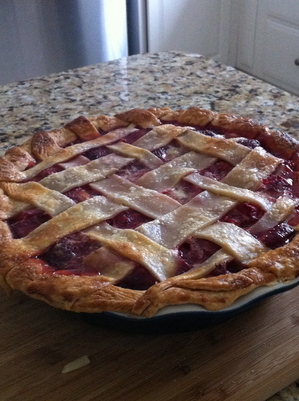 Sarah Finks | Contributor
And there you have it, strawberry rhubarb pie made with local fruit in the middle of a Michigan winter.
If you are looking for a last minute gift for your favorite Ann Arbor foodie, Locavorious still has a few shares left for this winter.

Sarah Finks is a local mom and blogger trying to find order amongst the chaos of three small boys and a wonderful husband. Feel free to e-mail me at threeboys.home@gmail.com or check out my blog at threeboys-home.blogspot.com for more household tips.