Posted on
Fri, Dec 11, 2009 : 3:45 p.m.
Local homebrewers to release "Beer Camp" ale at Arbor Brewing
By David Bardallis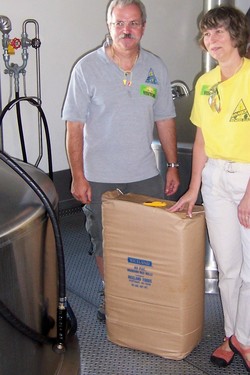 Photo courtesy of Jeff Rankert
What are you doing Saturday night, around 7pm?
If you said anything other than "Going to Arbor Brewing to try Old Cantankerous Ale," you need to rethink your priorities.
What's Old Cantankerous Ale?
The short answer: It's the product that came out of Sierra Nevada Brewing's Beer Camp #13. (There are some recipe and tasting notes here.)
The longer answer requires some explanation.
Back in the summer, Ann Arbor Brewers Guild members Jeff and Susan Rankert won a gold medal at the American Homebrewers Association's National Homebrew Competition for their barleywine. This in turn led to them being invited out to Chico, Calif., home of Sierra Nevada, for the 13th Beer Camp, a two-day event that includes an all-access pass to one of the country's pre-eminent craft breweries and the opportunity to formulate and brew a beer on-site.
"Some Willy Wonka dreams were in there, too," jokes Jeff, referring to their invitation as a "Golden Ticket." "Oh, and there was a lot of food and beer."
The recipe for Old Cantankerous was discussed amongst the brewers—who included the other 2009 AHA homebrew contest gold medalists—via email before the camp. Then, on Sept. 4, after finalizing the recipe with Sierra Nevada folks, the homebrewers produced 20 barrels of what would become Old Cantankerous on Sierra Nevada's pilot brewery system.
Once it was ready to be served, each Beer Camper was then able to procure a half barrel of the ale to be served at a local pub—and that's how much there will be at Arbor Brewing tomorrow.
"Sierra Nevada says the beer turned out very well," notes Jeff. "We'll find out for ourselves on Saturday."
Jeff, a retired mechanical engineer, began homebrewing in 1992 after some co-workers got into it and his wife, Susan, a retired teacher, joined him as his co-brewer five years ago.
"We brew in the garage from May to September, and we package, cellar, and serve the beers in our basement," says Jeff.
The homebrewing bug has bitten both of them hard, adds Jeff. "One of the best aspects of the hobby is all of the wonderful people we've met. We've been to the last 3 national conferences in a row, and we're looking forward to the next one in Minneapolis."
Of their experience at Sierra Nevada, Jeff says: "Beer Camp was one of those opportunities that seldom come along. The staff at Sierra Nevada was wonderful, treated us like important guests in their world-class brewery, and have made efforts to keep in touch with the Beer Campers. I see a vacation to California in our future, with a swing through Chico as a main part of that trip!"
Come out to congratulate Jeff and Susan and enjoy a pint of Old Cantankerous while you can—it won't last long! David Bardallis is a freelance writer and editor, blogger, bon vivant, and man about town. Visit his Web site, DavidBardallis.com, to engage his services or read his latest. Email your beer-related thoughts to annarborbeer@gmail.com.