Posted on
Tue, Dec 4, 2012 : 3 p.m.
Locavorious frozen food CSA brings summer to winter
By Kim Bayer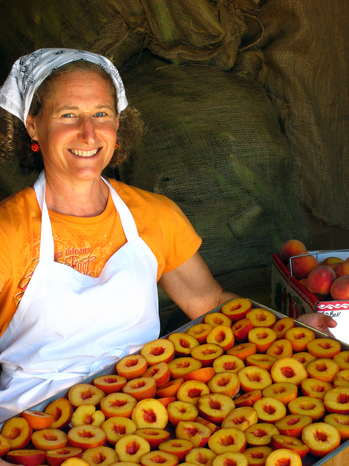 Photo courtesy of Locavorious
In another month or two when it's zero degrees outside and the wind is whipping my cheeks raw, I'm going to raise a one-finger salute to winter when I come inside to eat local summertime strawberries and raspberries, ripe off the vine. I can make these plans because I just signed up for our wintertime CSA. There are not hoophouse greens or storage root crops in this CSA. We're going to have local peaches, beans, corn, tomatoes, and blueberries that come frozen and ready to use in Locavorious' clear ziploc packages.
Rena Basch, founder, owner and "chief freezing officer" at Locavorious started the frozen food CSA in 2007. That year she processed and froze about 2,000 pounds of local produce in the summer and distributed it to customers in the winter.
This year she bought more than 7 tons of food to preserve from local farms — items like peaches from Kapnick Orchards, cauliflower from Karen and Kurt Wilczewski, and tomatoes from Tantre Farm. Basch and her five seasonal staff hand-process the raw fruits and vegetables and do small-batch steam blanching in a commercial kitchen. And as of December 2012, she has 12,758 pounds of those local fruits and vegetables ready to distribute in packages at minus 10 degrees.
Basch says. "Our season starts in the spring. I tell people we preserve food from asparagus to pumpkin. Throughout the spring, summer and early fall we're going to farms and helping to pick it or arranging with farmers for how many hundred pounds we need. Then there's the work in the kitchen to wash, chop, blanch and freeze it all. Once fresh food is not available (at the Farmers Market) in December we set up distribution."
Basch, who left a career as an engineer (and has a PhD in Material Science) says the process of preserving food "is hard physical labor, incredibly physically difficult. But it's incredibly gratifying. You're really connecting people with the food and with the community. We're doing something that is such a win-win-win: farmers sell more food, and people can enjoy better tasting, higher quality food without having to do this work themselves."
And her customers agree. They say things like: "If I were stranded on a dessert (sic) island and could only take one food, I would take Locavorious. (Cheating, I know.)" And: "Signin' up for year #3. Love it! Little bags of frozen sunshine, all winter long." And: "Produce was absolutely delicious, and having it recipe-ready was super handy." Some even credit Locavorious with divine intervention: "We have loved our shares so much this winter. And experienced a miracle: My son, 23, decided he loves kale!"
So I just have this to say to winter: Bring it. I already know I'll be eating strawberry rhubarb pie in February.
Kim Bayer is a freelance writer and culinary researcher. Email her at kimbayer@gmail.com.