Posted on
Tue, Dec 28, 2010 : 7 a.m.
Lord Baltimore Cake completes the perfect pair
By Erin Mann
Erin Mann is baking a new cake every week for a year from the "All Cakes Considered" cookbook and shares her adventures here on AnnArbor.com. Read past columns here.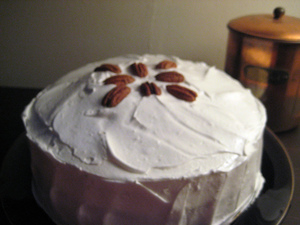 Erin Mann | Contributor
Lord Baltimore cake is a yellow cake with a fruit and nut filling covered in an Italian meringue frosting.
Lord Baltimore cake was created to use up the leftover egg yolks from Lady Baltimore cake. For this reason, both cakes are often made at the same time.
Sweet treats abound in my household because of the holidays, so I baked the Lord and Lady Baltimore cakes separately. No eggs were wasted — I simply froze the yolks leftover over from the Lady Baltimore cake until I needed them to make the Lord Baltimore cake.
For the cake, gather the following ingredients:
â…" cup egg yolks (from 7 or 8 eggs)
1 ½ sticks unsalted butter, at room temperature
1 ¼ cups sugar
½ teaspoon lemon extract
1 teaspoon vanilla extract
2 ½ cups sifted cake flour
3 teaspoons baking powder
½ teaspoon salt
¾ cup milk
1. Preheat the oven to 375 degrees and prepare two round cake pans (8- or 9-inch). Beat the egg yolks until thick and light yellow. Set aside.
2. Cream the butter on medium speed, gradually adding the sugar and beating well. Add the lemon and vanilla extracts and beat the mixture until it is extremely creamy.
3. Add the egg yolks to the creamed mixture and beat for 5 minutes on medium speed. In a separate bowl, dry whisk the flour, baking soda, and salt together.
4. Add a third of the flour mixture to the creamed mixture, followed by a third of the milk, and beat well. Repeat two more times until all of the dry ingredients and milk have been added to the batter. Beat for 2 more minutes at medium-high speed.
5. Pour the batter into the pans and bake for 20-25 minutes, or until the layers test done. Cool the layers in the pans for 10 minutes. Unmold onto cake racks and cool to room temperature.
For the filling, you'll need the following:
1 cup dry macaroon crumbs
½ cup pecans
½ cup almonds, chopped
24 candied cherries, quartered
½ teaspoon orange extract
4 teaspoons lemon juice
When I read the list of ingredients for the filling, I instantly questioned the first ingredient. Macaroon crumbs? Where does one buy macaroon crumbs? Or was I to crush up a bunch of those sweet, chewy coconut cookies? The recipe didn't clarify so I Googled "macaroon crumbs," and found a number of other recipes that list macaroon crumbs as an ingredient along with various recipes to make macaroons.
Making macaroons is deceptively simple; most recipes I found were as easy as mixing shredded coconut with some sweetened condensed milk and vanilla extract and baking them in the oven. I considered just toasting some sweetened flaked coconut, but I had the time so I went the extra mile. It didn't take long to make my own, and after I measured 1 cup of crumbs for the filling I had a few leftover macaroons to snack on while making the cake.
The recipe calls for candied cherries, which likely refers to cooking cherries in a sugar syrup. Fresh cherries are out of season, and I didn't want to make a special trip to the store for a bag of frozen cherries. I've seen Lord Baltimore cake made with maraschino cherries, but again, that required a trip to the store. I had some dried cherries on hand and plumped them with some hot water.
Traditionally Lord Baltimore cake is frosted with a white, fluffy frosting like
divinity frosting. The divinity frosting in "All Cakes Considered" is a basic Italian meringue frosting made from whipped egg whites combined with a hot sugar syrup. I had problems with the divinity frosting last week; it became gritty shortly after mixing it. I compared the divinity frosting recipe to other Italian meringue frosting recipes in various cookbooks and online. The divinity frosting called for a lot more sugar than many of the other recipes I read.
This week I tried Martha Stewart's recipe for Basic Italian Meringue. I doubled the recipe which made more than enough to mix with the filling and to liberally frost the top and sides of the cake. It's smoother and easier to spread than the divinity frosting. I prefer the taste of this frosting — it's subtly sweet and doesn't compete with the flavors of the fruit and nuts in the filling.
Erin Mann is ruining diets one cake at a time with her weekly kitchen adventures. Email this baking bachelorette at SheGotTheBeat@gmail.com or follow her on Twitter. Facebook users can also keep up-to-date with A CAKE A WEEK by joining the group.