Posted on
Thu, Apr 28, 2011 : 5:50 a.m.
Author's artichoke recipe is no mystery
By Jessica Webster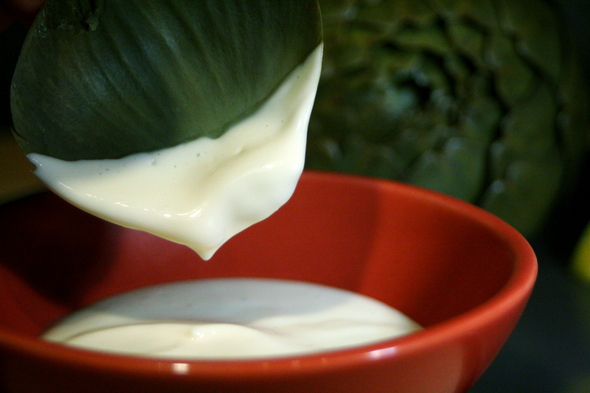 Jessica Webster | AnnArbor.com
This week's recipe comes from a very special and somewhat unexpected source: writer
Loren D. Estleman
.
Aside from creating one of my favorite characters in contemporary noir detective fiction — private investigator Amos Walker — Loren D. Estleman is also an avid cook. Last year, after reading a column I wrote about preparing artichokes, Mr. Estleman sent me some suggested improvements to my process and a tasty recipe for a dipping sauce he learned from his mother.
"Most recipes (yours included, I'm afraid), waste much of the artichoke, when nothing need be eliminated at all. It's unnecessary to cut off the top of the choke or its leaves; this sacrifices much of the meat. Although the stems may require cutting to make room in the cooking vessel, they are as tasty and tender as the hearts and not stringy, at least when prepared in the pressure cooker (my preferred method). The result is a hearty, filling and healthy meal."
Jessica Webster | AnnArbor.com
Artichokes have been plentiful and gorgeous in the supermarkets these past few weeks, so I decided to finally take Loren D. Estleman's advice and cook some in the pressure cooker.
I soaked the thistles (did you know that artichokes are thistles?) in cold salt water "to expel insects" as instructed; cut just the very bottom, discolored part of the stems and placed the artichokes on a steamer basket and into the pressure cooker.
Following the directions for my pressure cooker, I added two cups of water, fastened the lid on the cooker and set the cooker on my stove over high heat. Once the pressure cooker indicated that the water was boiling and the pressure was building, I turned the stove to medium and set my timer to 15 minutes.
When the chokes were finished cooking, I released the pressure on the cooker and whipped together the dipping sauce. The results were incredible. I am not exaggerating when I say that these were the best tasting (and by far the quickest!) artichokes I have ever made.
Louise A. Estleman's artichoke dipping sauce, courtesy of Loren D. Estleman
Ingredients

4 tablespoons unsalted butter


4 tablespoons light mayonnaise


1 tablespoon lemon juice


Instructions
Melt butter in a saucepan, add mayonnaise and lemon juice and heat, using a whisk to blend the ingredients into a smooth, creamy consistency. If it takes on a curdled quality, add more mayonnaise. If it becomes too thick, add butter or more lemon juice. I begin work on the sauce while the pressure cooker is cooling; by the time it's ready to open, the sauce is ready.
Makes enough sauce for two artichokes.
Some final words from Mr. Estleman on the culinary arts:
"Cooking is a talent deeply seated in the blood. My mother, who grew up in the restaurant trade but whose own mother was too busy in that line to teach her to cook, taught herself that skill when she married my father in 1940. When he became disabled in 1960 and she went to work, he took over the kitchen and learned to cook very well. My brother had the same talent, so when I married the first time and found out my wife didn't know how to find the kitchen (this is quite acceptable; someone has to know his way around a stove, regardless of gender), I fell back on this inherited trait. You can get along if you haven't the inbred talent, but it's what makes the difference between a fair cook and an inspired chef.
Not exactly what you'd expect from an Amos Walker, I'm afraid."
Maybe, but it's what I'm thrilled to find out about Loren D. Estleman.
Jessica Webster leads the Food & Drink section for AnnArbor.com and reads a whole lot of noir fiction in her spare time. You can reach her at JessicaWebster@AnnArbor.com.