Posted on
Fri, Aug 31, 2012 : 3:55 p.m.
Go Blue Ribs to hold back the Tide
By Peggy Lampman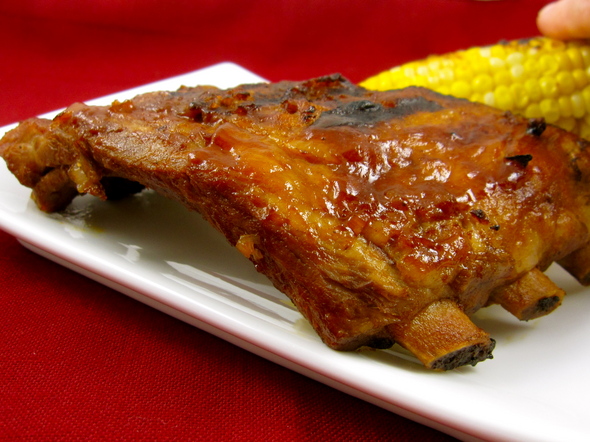 Peggy Lampman | Contributor
Outside my kitchen walls, I hear feedback from friends and new acquaintances who try my recipes. Generally I'm delighted, thrilled with their successes, eager to hear how they may have tweaked the recipe. This summer, a lot of folks have been telling me they tried a cola recipe for ribs I penned last year.
I have mixed emotions about this one, and my face burns when it's mentioned. Head bowed, eyes darting to the floor, "Does it bother you that there's no smoke?" I mutter.
"Heck no," is the consistent response. "I don't want to fuss around with a barbecue pit. And everybody loves these ribs." So I present to you a "ribs for the people" — a recipe for folks who might not have a barbecue pit, or have the time to fuss with controlling smoke and fire for hours on end.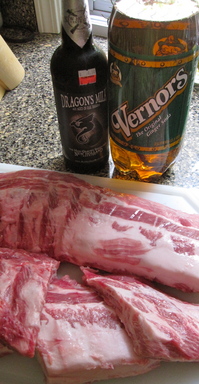 Yet, I remain conflicted. You see, I grew up in Alabama, a place where barbecue and football are revered, and the primary topics of conversation. My brother would, in fact, disclaim me if he got wind I was braising ribs in ginger ale and beer instead of smoking them over white oak and hickory. And the fact they will be simmering in this brew, as I root for Michigan in tomorrow's game against Alabama — why, that would be downright heresy. No matter that Michigan is stamped on my diploma; no matter that I have a trash bag of hickory chips in my garage that I do, in fact, use when motivated, but am simply too worn out to fool around with today.
In Mexico City, many street vendors braise boneless pork shoulder for carnitas in cola, and one could ever contest Mexico's rich culinary history. So, dear brother, as you're heading to Cowboy Stadium in Texas to watch the game, remember Mexico is snuggling up next to you, and you're in their land now. Take that, Bama boy, take that!
So you Roll Tide, you roll... but not over Michigan in tomorrow's game. Go Blue!
Simmer and bake time for ribs: 1 hour and 45 minutes
Active time (including time to make sauce): 25 minutes
Time to simmer sauce: 30-35 minutes
Number of servings (yield): 4-6
Ingredients for Ribs
1 (2-liter) bottle ginger ale, such as Michigan-produced Vernor's, or Coca-Cola
22 ounces dark ale or beer, such as Michigan-produced Dragon's Milk
5 pounds bone-in baby back pork ribs, cut into 8 portions
Barbecue Sauce, your preferred brand or favorite recipe
Instructions
1. In a large, heavy-bottomed stockpot, bring ginger ale and ale or beer to a boil. With tongs, carefully place ribs in liquid, then reduce heat. With a slotted spoon, remove and discard initial accumulated foam.
2. Simmer, covered, for 1 1/2 hours or until ribs can be easily pricked with a fork but are not falling apart. Remove from heat and, if time allows, let ribs come to room temperature in brew to absorb additional flavor.
3. Remove ribs from liquid, place on a foil-lined baking sheet, and coat both sides of ribs in preferred barbecue sauce. (After this step, ribs may be covered with plastic wrap or foil and refrigerated up to 24 hours in advance. Bring to room temperature and brush with additional sauce before reheating.)
4. Preheat oven to 400 degrees and, if desired, prepare your grill to medium-high heat. Bake ribs on the center rack of oven 12 minutes, or until hot. If desired, transfer the ribs to the grill or turn broiler on and cook long enough to char. Serve immediately.
Peggy Lampman is a real-time food writer and photographer posting daily feeds on her website and in the Food & Grocery section of Annarbor.com. You may also e-mail her at peggy@dinnerfeed.com.