Posted on
Mon, Sep 3, 2012 : 4:35 a.m.
Low-Labor Perfectly Grilled Steak
By Peggy Lampman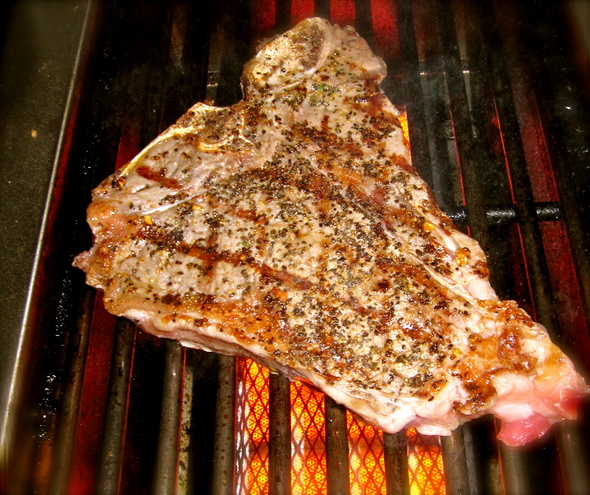 Peggy Lampman | Contributor

To receive my lastest dinnerFeed posts
by email, sign up here.
Happy Labor Day! Here's wishing us all a day of maximum sunshine and minimal efforts. Today I present a fail-proof, many many many times tested recipe for the ultimate grilled steak.
Of course you have to start out with the best cut of meat your purse can afford. I, personally, am uncomfortable with bargain beef. There's usually a reason it's inexpensive, which is best expressed by Michael Pollan.
I prefer to know where my beef comes from, paying more for quality meat, and eating less of it. If my food budget is strained, I simply don't indulge. (I enjoyed a buffalo steak from Sparrow Meats last year that was, perhaps, the best steak I've eaten in my life.)
Here are my rules of thumb for grilling that perfect cut of beef:
1. Cut of meat — I prefer on-the-bone rib eye, T-bone, porterhouse-style, at least 1 and 1/4-inch thick.
2. Liberally sprinkling both sides with salt and pepper, then letting the meat sit at room temperature at least an hour before grilling.
3.Searing over extremely high heat, then moving meat to a slightly cooler, medium-high heat, and cooking it to desired level of doneness.
Last year Bon Appetit magazine had an article about grilling the perfect steak, and I checked to make sure we were in sync.
We were, in fact, but the magazine recommended additional simple steps that elevates this steak to another plateau: resalting the meat a second time, right before grilling; and pounding whole black peppercorns with a mallet to get fine, medium and coarse ground pepper, which you rub into the meat. It's a marvelous coup de grace, providing different layers of peppery goodness.
Prior grill rest time: 1-2 hours
Grill Time: 9-11 minutes for medium-rare
After-grill rest time: 10-15 minutes
Yield: 1 big steak (enough for two)
Ingredients
1 steak, bone-in, at least 1 1/4-inch thick preferred
Olive oil
2 tablespoons whole black peppercorns
Instructions
1. Brush both sides of beef with olive oil. Liberally sprinkle both sides with kosher or sea salt. With a mallet, pound peppercorns until you have an assortment of fine, medium and coarsely ground pepper, and rub into beef. Let meat sit at room temperature 1-2 hours.
2. Oil grill grates. Prepare one side of gas or charcoal grill to high heat, and the other side to medium-high heat. Sprinkle additional salt over beef. Place steaks on the hottest side of grill and sear for 1 1/2-2 minutes on each side. (To create a diamond pattern on the meat, rotate 45 degrees after 1 minute.) After searing meat, move steaks to a slightly cooler side of the grill and cook to desired level of doneness. (For medium rare, about 3-4 additional minutes per side.)
3. Remove steaks from grill and let sit 10-15 minutes.
Peggy Lampman is a real-time food writer and photographer posting daily feeds on her website and in the Food & Grocery section of Annarbor.com. You may also e-mail her at peggy@dinnerfeed.com.