Posted on
Fri, Jan 14, 2011 : 7 a.m.
Lynn Henning named winner of the Goldman Environmental Award - Connecting the foodshed and the watershed
By Kim Bayer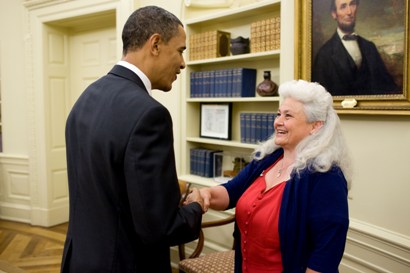 As the new year overtakes the old, consider the ouroboros, the ancient symbol of the serpent devouring its own tail. Known in many cultures, this serpent, is a metaphor for the connected and cyclical nature of existence. The earliest depiction of the ouroboros, found in the Egyptian Book of the Netherworld, dates from before 2300 BC.
A more recent version of this symbol was presented to Lynn Henning as part of the Goldman Environmental Award for her work fighting CAFOs (Concentrated Animal Feeding Operations) in Clayton, Mich. in nearby Lenawee County. Henning will speak on the topic of "Protecting Michigan's Food and Water" at the annual meeting of the Huron Valley Group of the Sierra Club at Matthaei Botanical Gardens on Jan. 18 at 7:30 p.m.
Called the "Nobel of the environment," the Goldman Prize is an honor given yearly since 1990 to six winners nominated across the globe, and includes $150,000 in cash. The Goldman Prize recognizes "individuals for sustained and significant efforts to protect and enhance the natural environment, often at great personal risk."
The risks of doing this work for Henning have included being run off the road, having dead animals left on her car and finding her mailbox blown up. A family farmer with 300 acres, Henning won the prize for North America for her work as a Sierra Club Water Sentinel and the decade of environmental testing she has conducted related to pollution from 12 factory farm CAFOs within 10 miles of her house. She's been instrumental in the 1,000 Department of Environmental Quality citations that have been issued to these businesses.
According to the Environmental Protection Agency, CAFOs, where most of the meat in grocery stores is now produced, are "agricultural operations where animals are kept and raised in confined situations. CAFOs congregate animals, feed, manure and urine, dead animals, and production operations on a small land area. Feed is brought to the animals rather than the animals grazing or otherwise seeking feed in pastures, fields, or on rangeland."
In other words, CAFOs are large scale, confinement facilities where animals are housed and fed with the goal of bringing them to slaughter (and sale) as quickly as possible. They are officially defined as "small, medium or large" by the number of "animal units" they contain. For example, a Large CAFO has 700 or more dairy cows, or 2,500 or more pigs weighing more than 55 pounds, or 30,000 or more laying hens if using a liquid manure handling system.
In order to make our grocery store meat inexpensive, "the nearly 149,000 dairy cows, 871,000 hogs, nearly 75,000 beef cattle, 8.8 million egg-laying hens, and 168,000 broiler chickens on factory farms in Michigan produce as much untreated manure as 60 million people — six times the population of Michigan," says the nonprofit group Food and Water Watch.
The recent trend toward "Meatless Mondays" aside, Americans eat a lot more meat than they used to. According to figures from the U.S. Department of Agriculture, American annual per capita consumption of meat rose from 144 pounds in 1950 to 222 pounds in 2007. Consumption of beef rose from 44 pounds in 1950, to 66 pounds in 2007.
According to Food and Water Watch, "The rapid transformation of livestock production from hundreds of thousands of independent farmers with reasonably sized operations to a few thousand mega-farms did not evolve naturally. Factory farming was facilitated by three policy changes pushed by the largest agribusinesses: A series of farm bills artificially lowered the cost of crops destined for livestock feed; the EPA ignored factory farm pollution; and the Department of Justice (DOJ) allowed the largest meat-packers to merge into a virtual monopoly."
I was able to interview Lynn Henning recently about the issue of CAFOs and her work:
KB: Thank you, Lynn, for making time to talk to me. Can you tell me a little about your background?
LH: I grew up in Deerfield, about 25 miles east of here, and started farming when I got married. We farm 300 acres. I raise all my own food and do all my own canning. I have two children and a granddaughter 3 years old who all live within a couple of miles. My husband works with his dad, who still farms at 90 years old. We're lifetime family farmers.
KB: What does your husband think about your work?
LH: He backs me 100 percent on my work. He's my driver when I go out to do my work. He worked 32 years at Ford in Saline, plus farming full time. We are a team, married for over 30 years. I help him farm, he helps me water monitor.
KB: How many CAFOs does Michigan have, and are there any in Washtenaw County
LH: Michigan has 229 CAFOs in 38 counties. Some of the counties with the most CAFOs are Allegan County with 30 and Huron County with 23. Washtenaw currently does not have a permitted CAFO.
KB: What has been the response of your community to your work?
LH: A lot of people are making a living by renting land to CAFOs, so it causes great dissension in the community. A lot of people are angry that I do what I do. As a farmer, at the beginning they asked me to turn my head and look the other way, and I said no, I would not, because this land, this place is my children's and my grandchildren's future. I watch manure go in the water that people are drinking downstream. The people that are doing that give a black eye to agriculture. I don't think anybody should sit back and watch something happen like this.
I have to do this because we're surrounded by CAFOs, with 20,000 cows and 20,000 pigs, and I'm right in the center. With my 300 acres, they're trying to run me out of here because they need my land for waste application. This is a beautiful area, but now you have to close windows, I can't hang laundry outside, we have fly outbreaks, and I have to shuffle my granddaughter from one home to another because the air is so bad.
KB: So why do we have CAFOs? Is it really that profitable?
LH: It's a subsidized system that is a welfare system to be big. We wouldn't have it without the subsidies and incentives for large industrial agriculture pretending to be family farmers out in the rural areas. They don't pay any school operating tax but get agricultural agreements and get credit back on income tax. As of now, they pay only 3-5 percent tax. They get development right easements and are exempt from certain things. It's very profitable — the government gives them a guaranteed milk price, and they can get money to transfer waste to the property or get money to put a barn up. You and I don't get money to put up a barn. CAFOs are getting millions of dollars in subsidies.
Here in Michigan, before Granholm, the laws were like a CAFO magnet. They didn't have permits until the early 2000s. When they first got started, they didn't even have to have a permit. Private companies with owners and private investments should not be subsidized by public money. CAFOs should not be considered economic development.
KB: I have seen a map that correlates CAFOs and county demographics, demonstrating that most CAFOs are clustered in areas that are economically challenged. Have you seen that correlation, and why is Michigan particularly vulnerable?
LH: CAFOs claim to bring jobs, but actually do the opposite. Rather than buying supplies from local communities, they choose places that have fewer retail options. When they pick lower income areas, they feel the people won't be able to fight them, because they are economically challenged. When people are being promised jobs, they think it will bring economic success to the area. Once they (CAFOs) are set up, they rely on technology rather than skilled labor. The work, such as it is, often goes to migrant workers who can't find better jobs. We've seen this in our area. The Department of Agriculture has a list of migrant labor camps, and the ones that are not in fruit-growing areas are all near CAFOs.
KB: I've heard the new governor say that Michigan needs to relax regulations to spur economic development. Do you think that has implications for agriculture?
LH: I would say that the regulations we have must be enforced. The DEQ needs funding to enforce the laws and to protect the environment and the people of Michigan. I'm seeing facilities that have been built over waterways and contamination of lakes with toxic bluegreen algae. One person has died. Industrial agriculture need to be separated from family farms and needs permits to be enforced.
One of my approaches is educating the agencies — doing aerial flyovers and showing officials things they can see from the air. We've taken the Michigan DEQ up in the plane and taken people from Oprah Magazine, along with numerous reporters to show them a visual that you can't even imagine as you're driving around one of these. You can't see the lagoons from the road. We have nine lagoons than hold 150 million gallons of waste. (From the air) it's a whole different perspective than what people see. We can show more than we can see on the ground, like the dead animal pile or hoses running into the creeks and stream. When you drive by, that's the front door. They're not showing you what's going out the back door.
KB: Do you see any hopeful signs that things are changing?
LB: Yes I do. I see people coming together across the country, and a movement for family farmers is contacting me now. They're all coming together and saying agricultural practices for CAFOs are not adequate to protect human health, air and land. And the costs are being externalized to the communities around them. We cannot feed the world with greed. These subsidies should be used to teach our children how to be sustainable for the next generation.
KB: What would you say are the most important steps that individuals can take to protect Michigan's food and water?
LH: Get involved and get informed — contact me. Know where your food and water is coming from. Contact policy makers and let them know how you feel.
KB: What alternatives to CAFOs can individuals seek?
LH: Buy local, know where your food comes from and know your farmer. I want to know where my food is coming from for the safety of my children and grandchildren, it's my job. I don't depend on someone else to know if the quality of what I'm eating is good or bad. If you walk into a big grocery store and ask where your food comes from, they have no idea. They'll probably tell you it comes from a truck out back.

KB: Do you eat meat, and where do you purchase it?
LH: I buy locally and get organic turkeys. I eat my own fish from my own pond, and I don't buy any meat from the local grocery. I don't support CAFOs. Michigan has over 50,000 small family farmers and 229 CAFOs. Those family farmers have fed the state for generations.
KB: What keeps you going?
LH: It's the right thing to do.
Kim Bayer researches and writes about food and works toward community food security.