Posted on
Mon, Feb 27, 2012 : 1 p.m.
Macaroni and cheese soup with bacon and shrimp - rich dish provides solace on a winter night
By Mary Bilyeu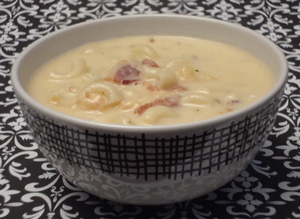 Mary Bilyeu, Contributor
Today is the first day of reporting back about
my "Chopped" challenge
, in which I had asked my blog readers to suggest ingredients I'd have to use in preparing appetizers, entrees or desserts.
I had originally intended to just pick four options to write about; but I received several extra suggestions that were just too much fun to resist. How could I leave anyone out? So I'll be offering my concoctions this week and part of next, as well — everyone's ideas were used for inspiration! Thank you for making me go beyond my culinary comfort zone; it's easy to get into a rut sometimes. This really was a lot of fun.
Because this is Day 1, I'm featuring my son Jeremy's suggestion: to make an appetizer using shrimp, bacon and colby-jack cheese. It doesn't get much more treyf [TRAYf] - non-kosher - than this! Bacon is taboo. Shellfish is verboten. Mixing meat and dairy products is a violation of the Jewish dietary laws.
And yet, they are all required ingredients. Good thing I don't keep kosher, huh?
Jeremy loves comfort foods, particularly macaroni and cheese. So I thought I'd make him a soup based upon that dish, incorporating the shrimp and the bacon and the Co-Jack into a luscious, creamy starter to a meal. Of course, this is so rich that you might not even need the rest of your dinner by the time you finish a serving!
The smokiness of the bacon and the sweetness of the shrimp combine beautifully with the mild Co-Jack cheese; Pepper Jack and cayenne pepper sauce contribute just a hint of a kick. And the macaroni adds substance, because Jeremy doesn't like soups that are primarily broth. Whether serving a cup of this as an appetizer or making it the mainstay of your meal with a larger portion, this is a perfect solace on a cold winter evening.
This soup readily passed Jeremy's exacting standards - he loved it, and even thanked me for making it!
Triple Treyf Mac 'n' Cheese Soup
5 strips bacon, cut into 1/2-inch pieces
1 medium onion, chopped
3/4 cup chopped cooked shrimp
3 tablespoons flour
1 tablespoon kosher salt
1/2 teaspoon freshly ground black pepper
3 cups skim milk, divided
generous splash cayenne pepper sauce
8 ounces Co-Jack cheese, shredded
3 ounces Pepper Jack cheese, shredded
1-1/2 cups macaroni
In a large saucepan, cook the bacon over medium heat until just lightly brown but not crisp. Add the onion and cook for 5 minutes, stirring frequently. Add the shrimp and cook for 1 minute.
Add the flour and stir to coat the ingredients; cook for 1 minute, stirring constantly. Add the salt and pepper.
Slowly add 2 cups of the milk, stirring well after each addition to incorporate it. Add the cayenne pepper sauce and heat just until small bubbles start to appear.
Add half of the cheese and stir until melted. Add the rest of the cheese and stir until melted. Add the remaining 1 cup of milk. Cook over low heat for 20 minutes.
While the soup heats, prepare the macaroni according to package directions; stir into soup.
Serves 8-10.
Note: If this isn't served right away or if there are leftovers, you can eat it as macaroni and cheese or you'll need to thin it a bit for soup; the macaroni absorbs a lot of the liquid.

Mary Bilyeu writes about her adventures in the kitchen - making dinner, celebrating holidays, entering cooking contests ... whatever strikes her fancy. She is also on a mission to find great deals for her Frugal Floozie Friday posts, seeking fabulous food at restaurants on the limited budget of only $5 per person. Feel free to email her with questions or comments or suggestions: yentamary@gmail.com.
You should also visit Mary's blog — Food Floozie — on which she enthuses and effuses over all things food-related.

The phrase "You Should Only Be Happy" (written in Hebrew on the stone pictured in this post) comes from Deuteronomy 16:15 and is a wish for all her readers - when you come to visit here, may you always be happy.