Posted on
Wed, Oct 31, 2012 : 11:30 a.m.
Make the most of your Halloween candy haul
By Jessica Webster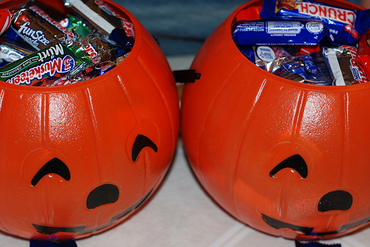 In my house,
Halloween
preparations begin in August. That's when my 10-year-old starts reviewing and narrowing down his costume options. It's also when he starts the candy negotiations.
"Can we get some Nerds? For Halloween? What about SweeTarts? Can we get them now, in case they run out? Can we get this giant bag at Costco?"
Yeah, when it comes down to it, Halloween is all about the candy.
I remember trick-or-treating as a child. We'd roam the neighborhood in packs, comparing notes with other groups on who had the best candy.
"The Clarks are giving away Clark bars... again. But that guy on the corner has full-sized M&Ms!"
And then, once our bags were full, we'd get to the business of trading. Trading Halloween candy is an art even more nuanced than trading baseball cards. Buzzfeed has a humorous take on the phenomenon:
Once you (or your children) have traded for your favorites, what do you do with the candy that's left over? Cooking blog TheKitchn.com has a great roundup of recipes that make use of leftover Halloween candy.
Sometimes, though, the best bet is just to get that candy out of your house. Luckily, you can do that without feeling guilty about wasting it. Arbor Dental is offering a candy buy-back program through Nov. 3. Bring your candy to their office at 2301 Platt Road, Suite 200, and Arbor Dental will pay you $1 per pound of candy, and will be shipping all collected candy to the troops via Operation Gratitude.
Jessica Webster leads the Food & Grocery section for AnnArbor.com. Reach her at JessicaWebster@annarbor.com. You also can follow her on Twitter or subscribe to AnnArbor.com's email newsletters.