Posted on
Tue, Apr 9, 2013 : 11:30 a.m.
Making cheese and self-sufficiency at Firesign Family Farm
By Kim Bayer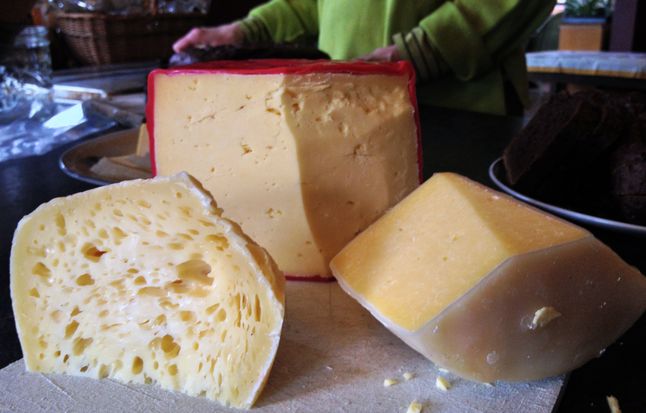 Kim Bayer | AnnArbor.com Contributor
Most of us in the U.S. have never and will never in our lives taste the fresh clean dairy flavor of milk the way it comes, unpasteurized and un-homogenized, straight from the cow. Not to diminish the potential harm from any tainted product, but it's hard to understand how here in the "land of the free" that raw milk (on which people survived for thousands of years) has stronger prohibitions against it, and is harder to buy, than guns.
So when a friend told me about a farmstead cheese-making class using milk supplied from the morning's milking at Firesign Family Farm in Whitmore Lake, I was anxious to sign up.
Last Saturday, I walked in to take my place with a dozen people sitting around a huge wooden table that was placed between the light-filled kitchen and a great room with a fieldstone fireplace. On the wall across the table from me, I noticed a sign that read "Beware of attack alligator." And below that, next to a tiny pool built under the staircase, was an actual four-foot alligator soaking up warmth from the heat lamp above.
Without further ado, Ruth Ehman, blond and barefoot in jeans and a gray fleece sweatshirt, started describing fresh milk as a living food. She said raw milk is filled with beneficial bacteria and enzymes that lend protective properties when they populate our gut, but are killed during heat pasteurization. As for making cheese with milk from the grocery store, she said, "Ultra-pasteurized milk is inert. It's a dead product….I don't recommend walking down that aisle personally." She explained how we would be making cow's milk feta and cheddar cheeses from 10 a.m. until 4 p.m.
With seven gallons from the morning's milking already heating in two enormous double boilers, the process sounded simple: heat the milk, add the culture, add the coagulant, wait, cut the curds, heat a little more, separate the curds and whey, press the cheese to remove the rest of the whey and that's it! How could it possibly take six hours?
Like most things on a farm, I've come to realize, what sounds simple may be uncomplicated — it just requires hours of backbreaking labor. And cheese making is one of those things. Just to start, Ehman told us, it takes her about an hour, twice a day, to milk her two Jersey cows and two Alpine goats by hand. And she has the powerful hands to prove it.
Milking her own animals is what allows Ehman to make "farmstead" cheese, a special designation given only to cheeses made on the same farm where the animals are milked. In addition to feta and cheddar, she also makes Manchego and Swiss. And she has more classes coming up.
As we worked our way through the steps of bringing the milk up to temperature, adding the various catalysts, and finally cutting and pressing the curds, there were many periods of waiting and chatting in between. Ehman used one of these lulls to give a tour of the spotless barnyard where she keeps pigs, chickens, horses, and sheep in addition to the cows and the goats on the 53 acre farm she's nurtured for 25 years.
We saw how springtime brings new life in the doe-eyed baby calf, Annabelle, watching us from the safety of her mother's side. And a half dozen tiny, cavorting Icelandic sheep and 50 baby chicks huddled under a heat lamp who were born the week before. A day after the class, two goats gave birth to their kids. The job of caring for all this life is called animal husbandry, and Ehman faithfully goes about the attentive husbanding herself.
Back inside, Ehman heated up a deliciously spicy beef chili and a smoky ham and bean soup — all made from ingredients she grew herself on the farm. She gave me the job of cutting up samples of all her cheeses for us to try.
As we ate, she told us she's working on the overall sustainability and self-sufficiency of the farm. She said it's her dream to get horses to plow the fields and grow her own grain and beans — but she's not getting any younger. So if you know a strong, good-looking man who likes farm work, she said she might have a place for him.
Kim Bayer is a freelance writer and culinary researcher. Email her at kimbayer at gmail dot com.