Posted on
Thu, Mar 4, 2010 : 6:30 a.m.
Making Polish dill pickle soup
By Mary Bilyeu

At the end of January, Tom and I went to see the
Avedon exhibit
at the
DIA
; and before going to the museum, we ate at a little Polish restaurant in Hamtramck called
Under the Eagle
. It had come highly recommended, but the food was unfortunately not very good … with the very notable exception of its pickle soup.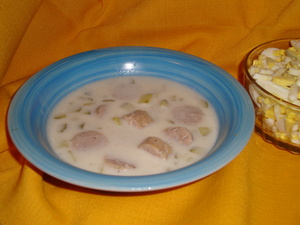 Mary Bilyeu, Contributor

Now I do feel guilty about criticizing a local(-ish) family business. But I must clarify that one of my very dearest friends in the universe, Connie Misiolek, is not only 100 percent Polish but also an excellent cook; so I would be surprised if anyone could ever meet the standard she has set with what, to her, is home cooking. Under the Eagle was ill-prepared to compete with her gift.
But the soup - thick with diced potatoes and flecks of dill and of grated carrot - oh, it was something to swoon over! Tom and I immediately tried to determine a recipe for it, in order to make it at home. And I knew I would need to consult with Connie and ask for her recipe, to see how it compared. She happily sent me her recipe for Zurek - dill pickle soup - with no measurements, because she can cook instinctively and knows the correct proportions from having made this soup all her life. But she did give me very specific instructions about the preparation, while leaving the tartness and the richness of the soup - and thus the quantities of pickle juice and sour cream - up to my tastes. It doesn't contain the potatoes, carrots or dill of the version from Under the Eagle, but those were not mandatory although they created a lovely presentation.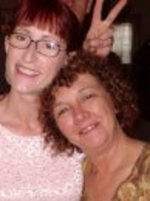 So I followed her instructions, which were warm and conversational, while also measuring ingredients as I went along. Connie's email included asides about her late mother-in-law (who was also 100 percent Polish) using vinegar in her version of the soup vs. her mother using juice from the pickle jar; and it also contained this priceless tidbit, which is my favorite part: "Get some sour cream (um, the more the better....lol. As we know Polish food is really not that 'diet friendly.')."

I put both Jeremy and Tom to work on the tasting, as I added more pickle juice or a bit of salt, as I determined how much sour cream to use, and as I debated whether to stir the hard-boiled eggs into the soup or serve them on the side as Connie does. Overall - from Connie having shared her beloved recipe to having my son and my boyfriend help to make the soup "ours" to our tastes - the Zurek was born from collaboration among members of what I consider to be my family; and with so much love invested in this simple soup, how could it have been anything but wonderful? Connie's Zurek is truly a thing of beauty that was absolutely delicious!
Connie works part-time at Copernicus, the amazing Polish deli at 617 S. Main Street (behind By the Pound), where you will absolutely need to go when gathering your ingredients. The garlicky dill pickles that you'll find at a grocery store are not acceptable for this classic and delicious soup, which requires the slight sweetness of the Polish dills (pictured below). While the deli counter features a variety of sausages (and Connie might make a different recommendation!), I would only choose Jeremy's favorite - the Smoked Polish Sausage. Don't forget to look in the refrigerator near the cash register to find extra-rich sour cream.

And you can also buy exceptional rye bread with caraway seeds at Copernicus as well, to serve along with the Zurek; with any luck you'll be there when it's freshly baked and still warm from the oven. (Just remember that it may technically be a "rye" bread if it contains rye flour, but as far as I'm concerned it's really only rye bread if it contains the requisite caraway.)
Connie - a great big Dziękuję [jenn-koo-yeh] - "thank you" - for all your help!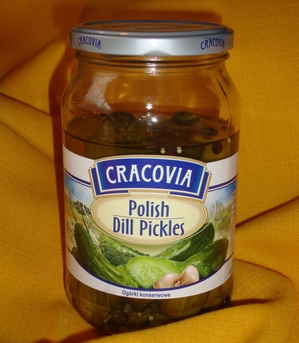 Zurek (Connie's Polish Dill Pickle Soup)
1 pound kielbasa
1 cup water + water to cover sausage
3/4 cup juice from a jar of Polish dill pickles
1 teaspoon salt
1/2 teaspoon black pepper
1/2 cup sour cream
2 tablespoons flour
1 cup chopped Polish dill pickles
5 hard-boiled eggs, chopped, for serving
slices of caraway rye bread, toasted and buttered, because as Connie puts it: "Of course, you have to have a good rye bread to go along with it."
Place the kielbasa into a medium saucepan, cover with water, and bring to a boil; lower heat and simmer for 1 hour. Remove the kielbasa from the saucepan and slice to desired thickness.
Add the 1 cup of water, the pickle juice, salt and pepper to the saucepan. Combine the sour cream and the flour in a medium bowl, then slowly stir in 1/2 cup of the broth until smooth. Whisk this mixture back into the broth, bring just to a boil (small bubbles around the edge of the soup), then remove from heat.
Stir in the chopped pickles and the sliced kielbasa. Serve hot, with the eggs and the toasted rye on the side.
Makes 4 generous servings.
Mary Bilyeu has won or placed in more than 60 cooking contests and writes about her adventures as she tries to win prizes, feeds hungry teenagers and other loved ones, and generally just has fun in the kitchen. The phrase "You Should Only Be Happy" (written in Hebrew on the stone pictured next to the blog's title) comes from Deuteronomy 16:15 and is a wish for all her readers as they cook along with her ... may you always be happy here! You can contact Mary at yentamary@gmail.com. And look for an assortment of musings about a variety of topics on her blog: youshouldonlybehappy.blogspot.com.