Posted on
Wed, May 16, 2012 : 11 a.m.
Nachos Grande recipe to celebrate birthday of Adam Richman, host of 'Man v. Food'
By Mary Bilyeu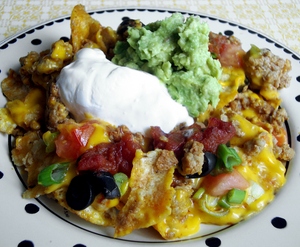 Mary Bilyeu | Contributor
Happy birthday to Adam Richman! He's the host of the Travel Channel's "Man v. Food" and upcoming "Best Sandwich in America" (which will premiere on June 6).
As the mother of a 21-year-old male who thinks that Adam and his Food Network counterpart, Guy Fieri of "Diners, Drive-Ins and Dives," have the greatest jobs on Earth — getting paid to eat rich and delicious dishes all around the country — this occasion simply couldn't pass without notice.
So, what to serve in honor of a man whose fame comes not only from his genial disposition (he always seems like such a nice guy who's just there to have fun regardless of the cholesterol count), but also from eating gargantuan quantities of food — the richer, spicier and more artery-clogging the better? Jeremy suggested nachos, in honor of Adam having visited Ann Arbor in 2010 and conquered Mt. Nacheesmo — a five-pound plate of nachos — at Tio's Mexican Cafe.
So we piled up the chips and loaded 'em with generous quantities of all the goodies: gooey cheese sauce, spicy chorizo, zesty salsa, vivid olives, crisp scallions and tomatoes, cool sour cream and luscious avocado.
And then we indulged.
Utterly, obscenely decadent, these nachos were great! They have virtually no redeeming nutritional value (though I give credit where it's due to the vegetables!), but it was important to simply have fun during our celebration and honor the spirit of the birthday boy.
Nachos Grande
1 10-ounce bag tortilla chips
1 16-ounce container cheese sauce
1-1/4 pounds fresh chorizo, browned
1/2 cup salsa
1 medium tomato, chopped
4 large scallions, chopped
1 2.25-ounce can sliced olives, drained
guacamole, sour cream, jalapenos, and banana peppers - optional for serving
Preheat oven to 400 degrees.
Place half of the chips into a 9x13-inch casserole dish. Drizzle with half of the cheese sauce, then top with half of the chorizo. Layer the chips, cheese, and chorizo again using the remaining quantities.
Top with the salsa, tomato, scallions and olives. Bake for 30 minutes until heated through.
Serve with toppings as desired.
Serves either Adam or Jeremy, or 10-12 mere mortals.

Mary Bilyeu
writes about her adventures in the kitchen - making dinner, celebrating holidays, entering cooking contests ... whatever strikes her fancy. She is also on a mission to find great deals for her Frugal Floozie Friday posts, seeking fabulous food at restaurants on the limited budget of only $5 per person. Feel free to email her with questions or comments or suggestions:
yentamary@gmail.com
.
You should visit Mary's blog — Food Floozie — on which she enthuses and effuses over all things food-related. And be sure to look for her monthly articles about holiday foods and traditions in the Washtenaw Jewish News.
The phrase "You Should Only Be Happy" (written in Hebrew on the stone pictured in this post) comes from Deuteronomy 16:15 and is a wish for all her readers - when you come to visit here, may you always be happy.