Posted on
Wed, Jun 27, 2012 : 6:35 a.m.
Mango slaw is a sweet, low-calorie summer side
By Jessica Webster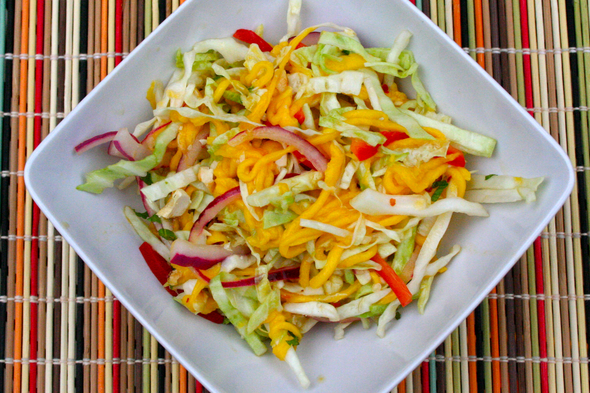 Jessica Webster | AnnArbor.com
It's a rare weekend when we're kid-free and haven't got any social obligations, so when we looked at the calendar and saw the opportunity, we quickly booked a weekend getaway in Detroit.
Detroit, you say? Yes! Aretha Franklin was holding court at the Fox Theatre, there was a great Icelandic jazz trio playing at Cliff Bell's, and I was dying to try Michael Symon's Roast, located just off the lobby of the beautifully renovated Book Cadillac hotel.
It was a weekend filled with beautiful, inspiring music and delicious food. Delicious, meaty, heavy food. Sausage and feta-stuffed peppers, roasted marrow, fried Brussels sprouts, rosemary-spiced macaroni and cheese, a nice ribeye... and yes, maybe a couple of cocktails.
By the time we got home, I was ready to detox. I wanted to make something quick, light, and relatively healthy. And I didn't want to heat the whole kitchen up.
I started with a recipe we ran online on AnnArbor.com just last weekend: easy Coconut-Lime Pulled Chicken Tacos, made quickly with a rotisserie chicken and canned coconut milk. Since coconut and mango are one of my favorite flavor combinations, I started looking for a fresh side dish recipe that incorporated mangoes and would complement the tacos nicely.
Once again: Deb Perelman and SmittenKitchen.com to the rescue. Her recipe for Mango Slaw with Cashews and Mint was just what I was looking for. The ingredient list is short, and other than cabbage it's made up of items I always stock in my kitchen. And since I've got mint growing everywhere it shouldn't in my yard, I'm always thrilled to find new recipes to use it up.
I was perplexed at first when I saw that the ingredients called for julienned mangoes, as I have a hard enough time peeling and slicing the slippery, juicy fruit into large chunks. But if you start with a nice firm, not overly-ripe mango, it's much easier. A julienne peeler (I got mine at Whole Foods) or a mandoline with the julienne blade makes easy work of the fruit, but a knife and a little patience will get you there too.
As a side dish, this recipe easily serves 8. I plugged the recipe into a nutritional calculator, and it appears that one serving will give you just 109 calories and 5.4 grams of fat. It would make a lovely picnic side, a light burger accompaniment, or a light lunch all by itself.
Notes: The recipe originally called for Napa cabbage, but I substituted green cabbage with no ill-effects. Rice vinegar can usually be found in the Asian foods section of the grocery store. The recipe calls for toasted cashews; I used roasted, unsalted cashews and toasted them lightly in a dry skillet before chopping. You could also use peanuts.
Mango Slaw with Cashews and Mint from SmittenKitchen.com
Ingredients
2 mangoes, peeled, pitted and julienned
1 to 1 1/4 pounds Napa or green cabbage, halved and sliced very thinly
1 red pepper, julienned
1/2 red onion, thinly sliced
6 tablespoons of fresh lime juice, from about two limes
1/4 cup rice vinegar
2 tablespoons oil of your choice
1/2 teaspoon salt
1/4 teaspoon red pepper flakes, or to taste (or omit this and whisk in a chile paste to taste)
1/4 cup thinly sliced fresh mint leaves
1/4 cup toasted cashews, coarsely chopped
Instructions
Toss mangoes, cabbage, pepper and onion in a large bowl. Whisk lime juice, rice vinegar, oil, salt and red pepper in a smaller bowl and pour over slaw. You can either serve this immediately or leave the flavors to muddle for an hour in the fridge. Before serving, toss with mint leaves and sprinkle with cashews.
Jessica Webster leads the AnnArbor.com Food & Grocery section. You can reach her at JessicaWebster@AnnArbor.com.