Posted on
Mon, Dec 17, 2012 : 11:15 a.m.
Manhattan Clam Chowder is quick and satisfying with less fat than other recipes
By Peggy Lampman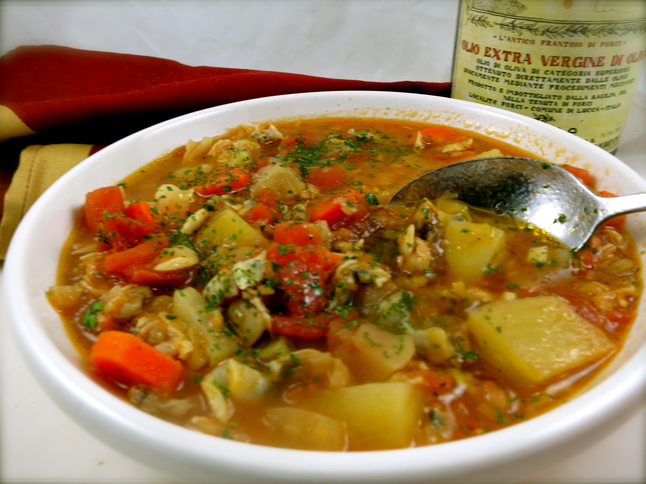 Peggy Lampman | Contributor

The new Holiday Cookbook answers all of your cooking needs. Strapped for time? Check out the well-tested Super-Simple section.
Here's a reasonably quick soup to assemble, and a great recipe for showcasing your finest extra-virgin oil, which is drizzled into the bowl just prior to eating at the diner's discretion.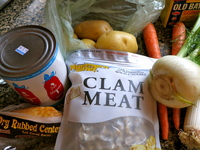 Unless you're using a rich homemade seafood stock, the final soup begs for a bit of this rich flavor added at the end of cooking time — but it would be a waste of cash cooking with your finer olive oils as long exposure to heat diminishes much of the oil's intricacies.
I was inspired to make the soup tonight, as I watched a worker at Whole Foods stock frozen clams into their upright freezer case. I could certainly have spent more money and time using fresh shucked clams, but not today. I could also have used canned clams, as I've usually done in the past when making quick clam chowders or sauces for pasta. If you decide to use frozen clams, understand that they have more of an intense clam flavor and texture.
And yes... I could have also thrilled my husband by making a New England styled creamy clam chowder, but my body is rebelling after a weekend of sugar cookie batter excess. You see the way we like creamy clam chowder is with a truckload of butter and half-and-half, and that bit of bacon I used in the following recipe is nothing compared to that East Coast brew.
BTW: I'm always happy that Whole Foods allows me to buy one carrot and one leek instead of a big bunch; handy in the following preparation.
Note on leftovers: If you plan to have any, the next couple of days you may decide to add additional seafood stock, as the potatoes soak up much of the liquid.
Yield: 4-6 hearty servings
2 slices of bacon, cut into 1-inch pieces*

1 leek (1 1/2 cups) chopped (onion may be substituted)

1 small bulb fennel, core and fronds removed then chopped (2 cups)

1 large large carrot, chopped (1 cup) (cook all above until limp - 7 minutes)

1 tablespoon seafood seasoning, such as Old Bay

1 tablespoon minced garlic, minced

1/3 cup dry white wine

1 1/2 pounds (unpeeled) Yukon Gold potatoes, cut into 1/2-inch dice

1 (28-ounce) can diced tomatoes with juices

3 cups seafood stock or clam juice (bring to a boil then simmer)

3 (6.5-ounce) cans or 1 pound frozen chopped clams, rinsed if canned frozen have a stronger flavor (kosher salt freshly ground pepper)

Finely chopped fresh parsley, optional

Fruity extra virgin olive oil for drizzling
* To lighten up, substitute bacon with 2 tablespoons of olive oil
Directions
1. In a heavy-bottomed soup pot or Dutch oven, cook bacon over medium-low heat until more of the fat has rendered from the meat.

2. Stir leeks, fennel, carrot and seafood seasoning into the pot. Cook until limp, about 10 minutes. Stir in garlic and cook an additional minute.

3. Add tomatoes, stock and potatoes to pot, bring to a boil then reduce to simmer. Cook about 20 minutes or until potatoes are tender. Mash several potatoes against side of pot to thicken broth. Stir in clams and heat.

4. Ladle into bowls, stir in parsley, if using, and pass the olive oil.
Peggy Lampman is a real-time food writer and photographer posting daily feeds on her website and in the Food & Grocery section of Annarbor.com. You may also e-mail her at peggy@dinnerfeed.com.