Posted on
Thu, Nov 24, 2011 : 12:09 p.m.
Mashed potato crust makes this quiche perfect for Thanksgiving leftovers
By Jessica Webster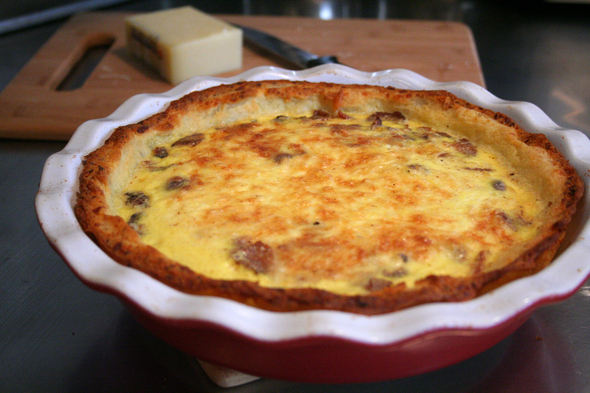 Jessica Webster | AnnArbor.com
After Christmas — and my birthday, of course —
Thanksgiving
is my favorite holiday. It's not just a food holiday; it's a comfort food holiday! Thanksgiving day is just the beginning of the fun, though. For the rest of the weekend, we've got delicious
leftovers
(planned-overs) to enjoy.
The stuffing usually goes first. We're all suckers for my mom's stuffing, and have been known to eat it cold, right out of the Tupperware.
The turkey is next. Open-faced turkey sandwiches (served with cranberry sauce, naturally) on Friday. Saturday might be turkey tetrazzini. Sunday lunch is turkey soup.
The leftover mashed potatoes is where you lose me. As much as I love freshly mashed spuds, I avoid them like the plague once they've been refrigerated. Even gravy can't rescue them.
Over the years, I've tried to find alternative uses for leftover mashed potatoes, with varying levels of success. They're a good thickener for soup, for instance. They are decidedly not a good ingredient for potato pancakes however, at least based on my very soggy experience.
And then it occurred to me over the weekend. What about using leftover mashed potatoes as a crust for quiche? We already know how well potatoes and eggs go together (see: hashed browns). And who doesn't want a nice easy brunch dish to feed houseguests as they emerge from their tryptophan-induced food coma?
You can make any kind of quiche you want with this crust. I'm supplying a classic Quiche Lorraine recipe, adapted from Emeril Lagasse and strikingly similar to Julia Child's recipe in "Mastering The Art of French Cooking."
As Julia Child explained, a quiche is practically foolproof, and you can invent your own combinations. Take out the bacon and use mushrooms or spinach if you are eating vegetarian. Or go nuts and replace the Gruyere with brie (remove the rind first).
Mashed Potato Crust
2 cups leftover mashed potatoes
1 tablespoon olive oil
Preheat oven to 350 degrees.
Lightly oil a 9-inch pie plate. Press the mashed potatoes evenly in the pie plate and brush with the remaining olive oil.
Bake for 30 minutes or until lightly browned. Set aside to cool while you prepare the quiche. (Or you can refrigerate overnight.)
Quiche
Ingredients



6 slices thick-cut bacon, cut into narrow strips


2 large eggs


2 large egg yolks


1 1/4 cups half-and-half


1/4 teaspoon salt


1/4 teaspoon ground white pepper


Pinch freshly grated nutmeg


1 cup grated Gruyere or Swiss


Directions
Preheat the oven to 375 degrees.
In a medium skillet, cook the bacon until crisp and the fat is rendered, about 5 minutes. Remove with a slotted spoon and drain on paper towels.
Arrange the bacon evenly over the bottom of the baked mashed potato crust.
In a large bowl, beat the eggs, yolks, and half and half. Add the remaining ingredients and whisk to combine. Pour into the prepared crust and bake until the custard is golden, puffed, and set yet still slightly wiggly in the center, 30 to 35 minutes.
Remove from the oven and let cool on a wire rack for 15 minutes before serving.
Jessica Webster leads the Food & Drink section for AnnArbor.com. You can reach her at JessicaWebster@annarbor.com. Happy Thanksgiving!
Because I cannot talk about Quiche Lorraine without thinking about Nat "King" Cole, here's some music to cook by:

And who doesn't need a little "Mashed Potato Time" in their lives?