Posted on
Tue, May 24, 2011 : 7:48 a.m.
12 local places to get meat that has been raised ethically
By Kim Bayer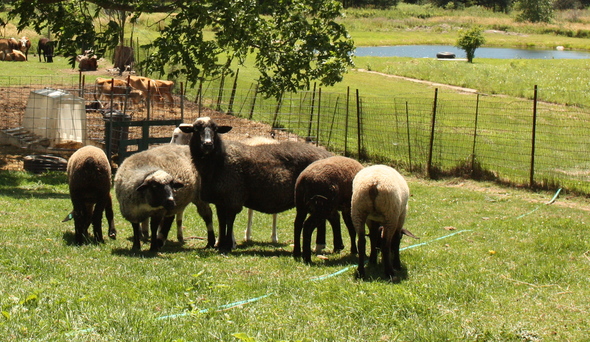 Contributor | Kim Bayer
In Pablo Picasso's painting called "Les Demoiselles d'Avignon," the viewer looks in on a scene of five prostitutes framed by a red curtain. The women make direct eye contact, drawing you, as viewer, into a relationship that makes you at best a voyeur, at worst a john or a pimp. It's a sly and masterful commentary. And a reminder that even the simple act of observing creates who we are in the world.
The experience of Les Demoiselles is shocking because the viewer participates in the implied relationship without awareness or consent. Just by looking the viewer becomes complicit.
I think about this unwitting participation in an uncomfortable relationship in regard to meat. At one level, I'm just having dinner. But by eating meat, I become complicit with everything that happened to grow, feed, house, slaughter and cut up a living creature.
With meat from most grocery stores, I am sure that I don't want to know what happened to it before it got to me — the life of imprisonment and the frightening end to what is usually a wretched existence.

I'm not sure I'll always be an omnivore, but right now I still love bacon. And roast chicken. And steaks on the grill. So I've been trying to learn about how the whole meat system works and whether there are options, outside the factory farm model, that I can purchase without feeling like I have to shut my brain off before I can take a bite.
It turns out there is the one main category of meat production, but also a tiny sub-category in addition. Obviously the majority of animals raised for meat are put through the large batch continuous-run processors of "animal units" with full-time on-site USDA inspectors. The output of USDA inspected plants is the only meat that can legally be sold in grocery stores. And according to the Farm Animal Rights Movement, approximately 10 billion land animals are killed every year for food in the United States alone. That's for about 300 million people.
Of Michigan's 68 meat processing plants, only three are listed as USDA inspected for slaughter and processing. That means a Michigan farmer who wants his meat sold in grocery stores needs to truck their animals likely several hours to a USDA plant.
But outside of this large-scale system there is also, still, remarkably, a patchwork of small state-inspected and "custom-exempt" processors who can sell directly to consumers and process meat for small farms. They must comply with regulations based on type of animal, how many animals, and whether their risk category is high, medium or low.
From what I understand from interviewing farmers, the decision about which processors to work with is usually based on their cleanliness, willingness to openly show the process, butchering skill and packaging capability and location.
The system of small producers and processors is one that I'm interested in understanding, because it's where I believe I can get meat from animals that led healthy lives and were slaughtered humanely; whose employees have a better chance of being paid a living wage for work in safe conditions; and whose animals were raised on farms that did not create biohazards with sewage lagoons polluting the watershed.
Contributor | Kim Bayer
Paying what it really costs to produce this meat is not cheap. But I agree with ranch owner Nicolette Hahn Niman, who says "To really improve the way food is being produced and the way people are eating in this country people should eat less meat, but eat better meat. All food from animals — meat, dairy, fish, eggs — should be treated as something special."
We pay about $15 per week for the meat from our Old Pine Farm meat CSA. I know that it's from animals who had space to roam in an actual pasture, who ate grass and organic feed, and who were slaughtered without fear and without being trucked for hours. I also know and respect Kris Hirth, and her commitment to her principles in regards to her animals. We don't eat meat every night, and it's something special when we do.
The meat is leaner than what I could buy in a grocery store, and more flavorful. I get different cuts every time, and I have to think a bit differently about how to cook it so we don't end up with shoe leather for dinner. In general that means either cooking it less, or cooking it low and slow.
These changes have been worthwhile. I know I don't like the feeling of being duped into participating in a system of food production that Ruth Ozeki called the largest death-dealing machine ever created, in her book "My Year of Meats."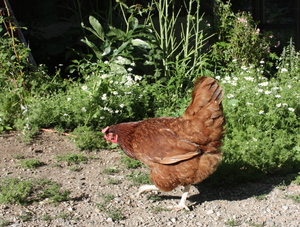 Contributor | Kim Bayer
So, I appreciate it when we do have meat. To test my ability to be aware of what I'm eating, I think I might need to try slaughtering a chicken this year. If I'm willing to rub a bird with olive oil and herbs and roast it in the oven, it seems like I should be willing to see the entire process through.
And I've been working on compiling a list of options for getting our meat outside that industrial death-dealing machine. I've got over a dozen so far in our area.
Back Forty Acres - Meat, all kinds
Proprietors: Kevin and DeAnn Doll and Larry and Stephanie Doll

Email: stephanie@backfortyacres.com
Web: www.backfortyacres.com
Dawn Farm - Turkey
Facilities coordinator: Ted Thiry 

Phone: 734-485-8725
Email: info@dawnfarm.org
Ernst Farm - Chicken, turkey, pork, beef, and lamb
Proprietors: Joan and Alvin Ernst
Phone: 734-662-8085
Website: N/A
Firesign Farm - Chicken, beef, lamb, pork
Proprietor: Ruth Ehman
 

Email: ruthehman@live.com
Website: N/A
Hannewald - Lamb
Proprietors: Rex and Judi Hannewald

Email: hannewaldlamb@yahoo.com
Website: N/A
Harnois Farm - Chicken, turkey
Proprietor: John Harnois

Email: harnoishappyhens@gmail.com

Website: http://harnoisfarms.blogspot.com/
Needle Lane Farm - Beef
Proprietor: Beverly Ruesink

Email: needlelane@tc3net.com

Website: http://www.needlelanefarms.com/
Old Pine Farm Meat (and Poultry) CSA - Beef, pork, chicken, turkey, buffalo
Proprietor: Kris Hirth
Email: Oldpinefarm123@yahoo.com

Website: http://oldpinefarm.com/
Our Family Farm - Chicken, pork
Proprietors: John and Lois Hochstetler

Email: ourfamilyfarm@sbcglobal.net
Website: http://ourfamilyfarmllc.com/
Steinhauser Farm - Beef
Proprietor: Dave and Susette Steinhauser
Email: Dave@steinhauserfarms.com
Website: http://steinhauserfarms.com
Two Creeks Organics - Chicken CSA
Proprietors: Mark and Amie Sanford
Email: twocreeksorganic@aol.com
Website: http://twocreeksorganics.com/chicken_csa
VanNatter Farms - Chicken
Proprietors: Aric and Kirk VanNatter

Email: ajvann@sbcglobal.net
Website: N/A
Farms outside of Washtenaw County, but still nearby:

Parmanian Acres - Mulefoot pork
Proprietor: Mark Sponsler


Email: parmanianacres@aol.com
Website: N/A
Ambry Farms - Lamb
Proprietors: Amber Hoover-Smith, Bryan Houttekier
Phone: 517-403-1424
Email: ambry_farms@yahoo.com
Website: N/A
Black Oak Farms - Pork
Proprietor: Chuck Cornillie
Email: cornillie86@gmail.com

Website: N/A
Pregitzer Farm - Beef, chicken
Proprietors: Wade and Shannon Pregitzer

Email: shannon@yourfarmmarket.com

Website: http://yourfarmmarket.com
Kim Bayer is a freelance writer and culinary researcher. Email her at kimbayer at gmail dot com.