Posted on
Fri, Jan 11, 2013 : 4:06 a.m.
Mediterranean Chicken Stew - easy recipe is an adaptable favorite
By Peggy Lampman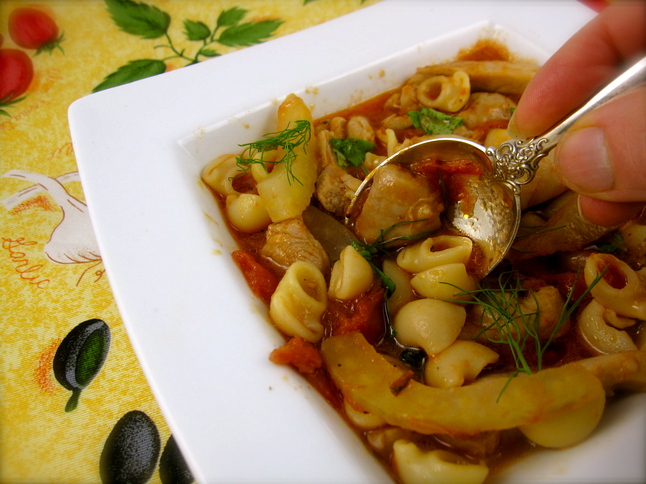 Peggy Lampman | Contributor

My dinnerFeed web site is a lean,
mean fighting machine!
To receive my lastest dinnerFeed posts
by email, sign up here.
The temperatures may be climbing but I'm in winter mode, craving soups and stews. Here's a favorite lighter stew that would also be delish if you substituted farro, small potatoes or wild rice for the pasta. Like the pasta, you'd have to cook the starches or grains until almost tender, before adding them to the broth.
You may also substitute lean chicken breast strips for the thighs, but they will be less juicy and cook to perfection in half the time; adjust your recipe accordingly.
Time: 30 minutes
Number of servings (yield): 6
Ingredients
2 pounds (apx. 10) skinless, boneless chicken thighs
1 tablespoon extra virgin olive oil
2 medium leeks (white and light parts only) chopped and washed well
1 small fennel bulb, stalks removed, halved, cored and thinly sliced; fronds reserved for garnish
1 can (28 ounces) diced tomatoes
2 teaspoons minced garlic
1-2 cups white wine or chicken stock (or combination of both)
1 cup fava beans or small shaped dry pasta, such as orzo or small shell (lumachine)
3 tablespoons chopped basil, optional
Instructions
1. Bring a medium-sized pot of salted water to a boil. Season sliced chicken with kosher salt and freshly ground pepper.
2. In a large, deep-lipped heavy- bottomed pan or Dutch oven, heat olive oil over medium heat. Sauté chicken 8-10 minutes.
3. Stir in leeks and fennel. Continue cooking an additional 5 minutes or until fennel and leeks are just limp. Add garlic, wine or stock and tomatoes to pan. Meanwhile, cook pasta, less than 2 minutes of recommended packaging cooking time. (Pasta will continue cooking in the stew.)
4. Add semi-cooked pasta to stew and continue simmering until pasta is tender, about 5 minutes, adding additional stock if stew is too thick; pasta will absorb liquid as it simmers and continue to absorb liquid as it sits. Season to taste with kosher salt and freshly ground pepper. Garnish with fennel fronds, and basil, if using.
Peggy Lampman is a real-time food writer and photographer posting daily feeds on her website and in the Food & Grocery section of Annarbor.com. You may also e-mail her at peggy@dinnerfeed.com.