Posted on
Mon, Feb 20, 2012 : 8 a.m.
Mexican pizza is a quick and easy dinner
By Mary Bilyeu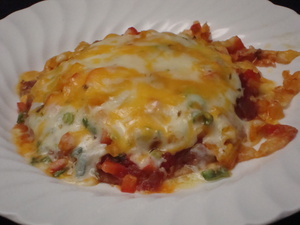 Mary Bilyeu | Contributor
Anyone who knows me knows that I love baseball. So I'm very excited that the Detroit Tigers' pitchers and catchers reported to Spring Training in Lakeland, Fla. yesterday!
Of course, among that group was Justin Verlander, who's celebrating his 29th birthday today. I can't imagine what he'll wish for when he blows out the candles on his cake, since this past year brought him both the American League Cy Young Award (winning it by a unanimous vote, too) as well as the American League's Most Valuable Player Award that hadn't been won by a starting pitcher for more than 20 years. Good luck trying to top those presents!
In Justin's honor, since we're all so enormously proud of him here in Michigan, I'm offering a recipe for Mexican Pizza.
When interviewed by Conan O'Brien in January, the amazingly talented pitcher stated that "his night-before-the-game ritual consists of 'three Crunchy Taco Supremes, no tomato; a Cheesy Gordita Crunch; and a Mexican Pizza, no tomato.'" Justin Verlander is a fan of Taco Bell. This meal has served him well, apparently... who am I to argue with success?



I, however, am not a fan of fast food, so while my Mexican Pizza is a quick and easy dinner, I didn't go slumming at a drive-through to get it. I fried my own tortillas, shredded my own cheese, chopped my own vegetables and enjoyed a flavorful, crispy, rich dinner. And I made sure to honor Justin's prohibition against tomatoes, too!


May 2012 be good to Justin and to the Tigers. Just 45 more days 'til Opening Day!
Mexican Pizza
1/4 cup frying oil
4 6-inch corn tortillas
1 cup shredded pepper jack cheese
1 cup shredded cheddar cheese
1/2 cup refried beans
1/4 cup hot salsa
1/2 cup finely chopped peppers
4 scallions, finely chopped
avocado and sour cream for serving, optional
Preheat the oven to 425 degrees. Lightly grease a baking sheet.
Heat the oil in a large skillet over medium-high heat. One at a time, fry the tortillas in the oil for 1 minute total (flip halfway through cooking) until golden; pat dry with paper towels, and place tortillas onto the prepared baking sheet.
Combine the cheeses. Sprinkle one-quarter of the mixture over one tortilla, then top with another tortilla and press lightly. Sprinkle one-quarter of the mixture over another tortilla, then top with the last tortilla and press lightly.
Spread half of the refried beans over one of the tortilla stacks, and repeat with the remaining beans and the other tortilla stack.
Spread the salsa over each of the tortilla stacks.
Combine the peppers and scallions; divide them among the tortilla stacks.
Divide the rest of the cheese mixture among the tortilla stacks. Bake the pizzas for 15 minutes until the cheese is melted and gooey.
Serve with avocado and sour cream, if desired.
Serves 2-4.

Mary Bilyeu writes about her adventures in the kitchen - making dinner, celebrating holidays, entering cooking contests ... whatever strikes her fancy. She is also on a mission to find great deals for her Frugal Floozie Friday posts, seeking fabulous food at restaurants on the limited budget of only $5 per person. Feel free to email her with questions or comments or suggestions: yentamary@gmail.com.
You should also visit Mary's blog — Food Floozie — on which she enthuses and effuses over all things food-related.


The phrase "You Should Only Be Happy" (written in Hebrew on the stone pictured in this post) comes from Deuteronomy 16:15 and is a wish for all her readers - when you come to visit here, may you always be happy.