Posted on
Thu, Sep 6, 2012 : 4:36 a.m.
Michigan Corn & Tomato Farrosotto - recipe swaps out rice for more nutritious farro
By Peggy Lampman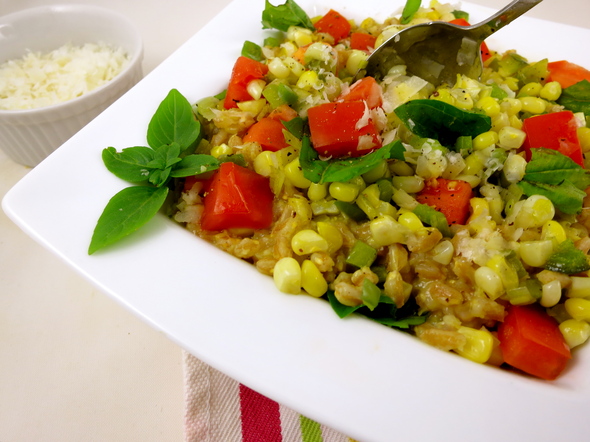 To receive my lastest dinnerFeed posts
by email, sign up here.
Debbie Swartz is a wise person; I'm lucky she's my friend. And — as all good and wise friends do — she helps me maintain a healthy perspective.
If I bemoan, for instance, my inability to secure the button on the waistline of my favorite shorts after the previous night's cherry pie pig-out, she cocks her brow, replying: "You don't have time for that, Peggy." (Translation: Life is too precious to be sweating egoist banalities.)
I just returned from a splendid weekend with her and a couple of other pals in Petoskey and was thankful for Debbie's wise-cracking humor, reminding me to shore up and admire the swelling sunrise instead of whining about my bloated belly. I also appreciated her giving me her September issue of Bon Appetit, which included the following recipe for Farroto, a culinary neologism, combining the words farro and risotto.
I think Farrosotto sounds even better — poetry on a plate. And it screams Italian, right? I thought I'd created a potentially viral food word, but after a quick google search, it turns out I'm late to the party — even though I've been making risotto-styled dishes substituting farro for rice for years. Online, I found several recipes for "Farrosotto" as well as its twin sister "Farrotto". You won't find recipes for these dishes in yesterday's classic Italian cookbooks, but I'll bet they'll be a part of tomorrow's, if they aren't already. And why not?
The classic Italian risotto uses Arborio rice from the Po Valley of Italy, which has a more unctuous rich and creamy texture than a risotto made with farro. But this whole wheat grain, as Arborio rice, has been enjoyed by Italians for centuries.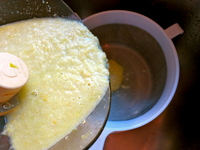 Best of all, of the information I've read concurs that farro (spelt) is a healthy component in a diet. According to farro.com, the grain is higher in fiber and complex carbohydrates and contains more protein than wheat. As well, gluten-sensitive people are often able to include farro in their diets.
The tough hull of this ancient grain is more difficult to process than other grains, therefore there has been a decline of cultivation of farro in modern times. These days the hull is thought to be a benefit, not only protecting the kernel, but helping to retain nutrients. Also, unlike other grains, the husk protects it from pollutants and insects allowing growers to avoid using pesticides.
I've made simpler "farrosottos" than the one penned below in the past. This recipe includes several chefy steps — such as puréeing then straining the corn reduction — but after tasting the results (and Debbie would agree), I do have time for that.
Note: This recipe was adapted from Chef Jeremy Bearman's Corn Farrotto (Manhattan's Rouge Tomate) in the September, 2012, issue of Bon Appetit. Bon Appetit describes the restaurant as one that makes health food decadent and delicious; that "....evokes Michelin stars (it has one), not yoga mats." I used leeks instead of onion, and substituted a Michigan black bell pepper for the red or yellow in the recipe.
Yield: 4 servings
Time: 50 minutes
Ingredients for Corn Purée
1 tablespoon olive oil
1 1/2 cups fresh corn kernels
1/2 cup (1/4-inch) diced leek
2 cups (or more) reduced-sodium vegetable stock
Ingredients for Farrosotto
3 cups (or more) reduced-sodium vegetable stock
1 cup regular or semi-pearled farro
3 tablespoons olive oil
1/2 cup (1/4-inch) diced leeks
1/3 cup (1/4-inch diced) bell pepper
1 cup fresh corn kernels
3/4 cup grated Parmesan
1/2 cup chopped tomato
2 tablespoons chopped fresh basil
Directions for Corn Purée
1. Heat oil over low heat in a medium-sized pan. Add corn and leek with a pinch of kosher salt and cook, occasionally stirring, until leek is softened and fragrant, about 6-7 minutes; do not brown.
2. Add stock, increase heat to high, and bring to a boil. Reduce heat to medium-low and simmer gently, uncovered until liquid is reduced by half; about 25 minutes.
3. Let cool slightly, then transfer mixture to a blender or food processor and puree until smooth. Strain puree through a sieve into a 2-cup heatproof measuring cup. Add additional stock, if needed, to measure 1 1/3 cups. Set aside.
Directions for Farrosotto
1. In a large saucepan, bring stock and farro to a boil, reduce to a simmer, and cook until farro is medium-tender, about 35 to 45 minutes.
2. While farro is cooking, heat oil over medium heat in a large skillet. Add leeks and cook until just beginning to soften, about 3 minutes. Add bell pepper and corn and cook, stirring occasionally, until vegetables begin to brown, about five minutes.
3. Drain farro when cooked, return to pan, and combine with corn puree. Cook over medium-heat until farrosotto is creamy, apx. 8 minutes. Stir in Parmesan, tomatoes, and basil. Season to taste with kosher salt and freshly ground pepper, if needed, and serve.
Peggy Lampman is a real-time food writer and photographer posting daily feeds on her website and in the Food & Grocery section of Annarbor.com. You may also e-mail her at peggy@dinnerfeed.com.