Posted on
Fri, Dec 23, 2011 : 2:53 p.m.
Milan family wins grand prize of $10,000 in grocery cards from AnnArbor.com
By Jen Eyer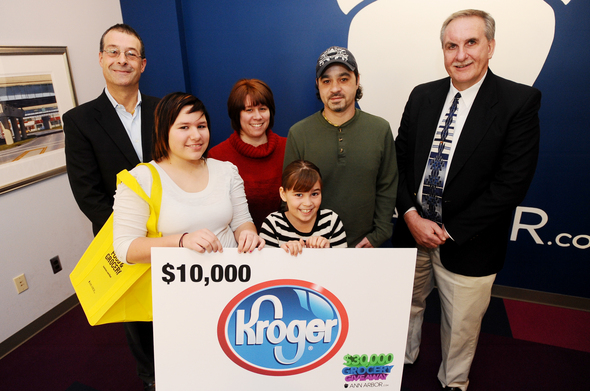 Melanie Maxwell | AnnArbor.com
For a family who says they've never won anything, the Woodwards of Milan got some good luck just in time for Christmas.
Jason Woodward, 36, a husband and father of two, won a random drawing on Monday for $10,000 in grocery gift cards from AnnArbor.com — the grand prize in the company's $30,000 grocery giveaway.
The family visited AnnArbor.com on Friday to claim their prize: a leather wallet containing 20 $500 cards to Kroger, which Jason had named as his favorite grocery store. Jason said he plans to keep the cards in a safe deposit box.
So what's first for the winners?
"We're going to let the girls have a junk food day," said Jason's wife, Shawn Woodward. For daughter Paige, 12, that translates to M&Ms. For Morgan, 8, it means lots of beef jerky.
Next stops will include donating dog food to the Humane Society of Huron Valley, taking food to their church, and giving a gift basket to the friend who told Shawn about the contest, Shawn said.
And for 2012, the Woodwards say their winnings will allow them to catch their breath financially — and enjoy the occasional lobster tail or prime rib.
Jason Woodward is a former line worker at Chrysler's GEMA plant in Dundee who lost his job during the company's downsizing a few years ago. He has taken classes to train as a veterinary assistant, and has volunteered at the Milan Animal Hospital. But he hasn't been able to find a job.
Shawn works full-time and then some — "too much," says Paige — as a medical assistant in the emergency room at University of Michigan Hospital.
"This will just really help us," Shawn said. "We live paycheck to paycheck right now."
Shawn said they played the grocery giveaway every day from the time they learned about it in October.
In August 2011, AnnArbor.com launched a new Food & Grocery page featuring the latest grocery deals, recipes, news about the local food and beverage scene and interesting food articles from around the web. On August 15, readers were invited to play the $30,000 Grocery Giveaway sweepstakes. The sweepstakes ended Sunday night at 11:59 p.m.
Each day, readers could play "spin to win" for the chance to win $10 or $100 in free groceries from their favorite store, including Arbor Farms Market, Hiller's, Polly's Country Market, Meijer and Kroger. Once a week there was a $250 bonus day. Each time a person played, they received another entry into the grand prize drawing.
According to the USDA, $10,000 buys the average family of four their groceries for a whole year.
12,484 people registered, each playing an average of 20.4 times. 1,260 instant win gift cards were awarded totaling $26,640.
For the grand prize, there were 255,133 entries in all, and Jason played 80 times, which gave him a .03% chance of winning.
"We are so pleased to find a way to introduce the new food and grocery section of our site while giving back to our community at the same time," said David Martel, AnnArbor.com's marketing director.
AnnArbor.com called Jason on Tuesday morning to notify him that he'd won. Shawn said she couldn't believe how calm her husband was on the phone. "I was like, why isn't he excited?" Shawn said. "I probably would have been screaming."
Despite his composure, just before hanging up Jason can be heard yelling "Sweet!" to his wife.
"I was a little shocked at first, and then it really hit me," Jason said. The excitement came out, though, when he told his daughters. "He made me jump up and down and dance around with him, singing 'We won $10,000!'" Morgan said.
Paige said she didn't believe it at first, and she made her father show her the confirmation email.
"We never win anything," she said with a smile.
Jen Eyer is director of audience engagement for AnnArbor.com. Reach her at jeneyer@annarbor.com or (734) 623-2577.