Posted on
Sun, Mar 21, 2010 : 6:25 a.m.
Monahan's Seafood Market celebrates 30 years
By Corinna Borden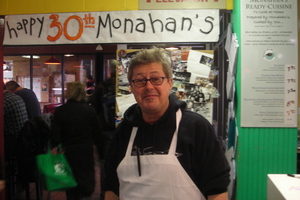 Corinna Borden | Contributor
Business Birthdays are celebrations of achievement, hard-work, innovation, and a dedicated and supportive clientele. This Saturday,
Monahan's Seafood Market
celebrated 30 years of serving Ann Arbor fresh, unique, and unusual fish.
Jovial Mike Monahan's dedication and excitement for his business is palpable. His eyes twinkled as he gesticulated to the fish cases and reminisced on the last 30 years. "We are really proud of what we've been doing and happy to still be here. It is a great seasonal business, there is always something new coming in. There is always something to look forward to and get excited about."
"I have always loved fish, but we were just young kids that had a lot to learn. We've learned a lot, mainly from our customers asking for what they want or how to prepare this fish. We are still learning a lot from the customers. Everyday we learn something new. Somebody's got some recipe that we have never heard of and they bring ideas for us."
Monahan and Paul Saginaw started Monahan's Seafood Market in December of 1979 when they purchased the store from Real Seafood Market. December is such a busy time for the mainstay fish purveyor in Kerrytown that Monahan "postponed the festivities until now."
Corinna Borden | Contributor
Birthday festivities there were - balloons, samples, special prices, eating happy people, contests with prizes, the smiling Monahan tribe helping behind and around the counter milling with people. I now know you can find balloons in the shape of a lobster. We sat and enjoyed lunch and watched the scene.
Monahan has offered catering for nearly 30 years and in 2004 expanded their expertise of ready-made items - chowders, pates, rubs, sauces, and grilling expertise - into a lunch counter. Their menu offers a wide variety including fried Narragansett squid (calamari), Prince Edward Island mussels steamed in white wine and garlic, and my personal favorite, hand shucked oysters (I love Menemsha oysters, which is listed as one of the featured fishes according to this past Friday's Fish Report). You can also point to a cut of fish, recently filleted on the premises, and ask for it to be cooked for you.
Corinna Borden | Contributor
I think that level of service is one of the reasons Monahan's has been around for 30 years. Monahan is very attuned to the "many international groups in Ann Arbor. There are a lot of transplants from the east and west coast so we started trying to figure out what people wanted. We started tracking down anything that someone would come in looking for. If someone asked for something that we didn't know about we would learn about it and bring it in."
In addition to the diverse backgrounds and myriad culinary interests of his clientele, Monahan lauded the location of Ann Arbor itself as being part of his success. "We are right here in the middle of the country. We get all of the Great Lakes fish, all the New England stuff, Carolina Coast, Chesapeake Bay, Florida, all up and down the Pacific Coast, a lot of Alaskan fish, and we overnight in Hawaiian sashimi fish every week." The crossroads of the fish channels and a customer base that is curious and discerning make fertile ground for Monahan's Seafood Market to thrive.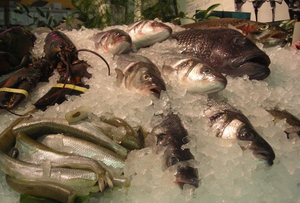 Corinna Borden | Contributor
And thrive they have. Though named in 2004 by Saveur Magazine as one of the top markets in their 100 Special Issue, they are not resting on their laurels. In the last three months, Monahan has started
blogging
about what is in season, recipes, and general fishy thoughts. In addition to the blog, Monahans posts
specials
on their
Twitter
account and
Facebook
page. The care and dedication it takes to remove individual bones from a salmon steak is what we celebrated on Saturday for their 30th birthday; the devotion to meet their customers where they are is what Monahan's shows with the new foray into social networking.
Happy Happy Birthday!
Corinna runs the Westside Farmers Market and blogs about all things food related (though her book is about something completely different).