Posted on
Mon, Mar 11, 2013 : noon
Broccoli & Grapefruit Crunch Salad - use citrus at its peak of flavor
By Peggy Lampman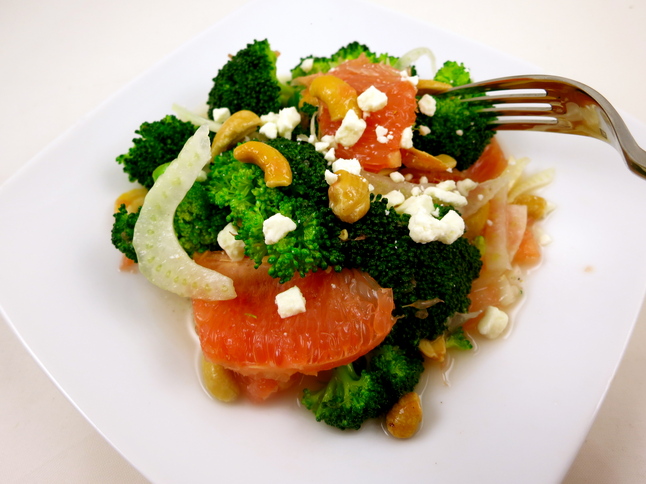 Peggy Lampman | Contributor

My dinnerFeed web site is a lean, mean fighting machine! To receive my lastest dinnerFeed posts by email, sign up here.
I'm singing the fried chicken blues. Trying to perfect my grandmother's recipe, I've been making it frequently, and the more I make it, the more my husband and I crave it. Could it be the salt? Could Crisco be my latest addition? Stop the madness! Today's recipe is the antidote to utterly delicious, salty, crisp, artery-clogging chicken fat and skin.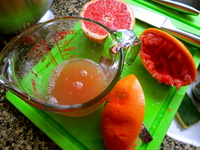 The grapefruit were sweet enough for me, so I didn't add honey. But whisk it into the juice and oil if it tastes sour to you. (Keep in mind the dressing won't emulsify but provides light sunny flavor to the salad as it marinates.) Juicy oranges may be substituted for the grapefruit, if desired.
This makes a nice sized batch, and leftovers are appreciated (saddled right next to the platter of cold fried chicken).
Yield: 6 servings
Time: 20 minutes (Optional time to macerate shallots: 30 minutes)
Marinate Time: 1 hour or overnight
Ingredients
1 cup fresh squeezed grapefruit juice (from 2 juicy grapefruits)
1/2 teaspoon minced shallot
1/2 cup peanut oil
8 cups very small broccoli florets (from 4 large stalks)
2 pink grapefruit, peeled and cut into sections
1/2 bulb fennel, very thinly sliced (1 cup)
1/2-1 cup cashew halves
Crumbled feta
Directions
1. If time allows, let shallot soak in grapefruit juice 30 minutes. Bring a large pot of salted water to a boil. Blanch broccoli 15 seconds; drain and rinse in ice cold water.
2. Whisk together grapefruit-shallot mixture and peanut oil. Toss broccoli, grapefruit sections, and fennel into the dressing and let sit, occasionally stirring, an hour or two at room temperature. (Or cover and refrigerate overnight.)
3. Before serving, toss with cashews and add feta to taste.
Peggy Lampman is a real-time food writer and photographer posting daily feeds on her website and in the Food & Grocery section of Annarbor.com. You may also e-mail her at peggy@dinnerfeed.com.