Posted on
Sun, Jan 22, 2012 : 10:58 a.m.
Upcoming Winter Beer Fest - lift a brew for charity
By Patti Smith
We are the Great Beer State. With brewpubs opening to packed houses and awesome movies like "Beer People", it should come as no surprise that we are seeing an increase in beer festivals. This winter alone, you have your choice of festivals in Grand Rapids, Jackson or Westborn Market's third annual Beer Fest.
The third annual Beer Fest is this Saturday, Jan. 28! You will see the Royal Oak Music Theater transformed into a big ol' beer fest featuring more than 80 beers from around the state, nation and planet. Over 10 new beers will have their own malt-tastic "debutante coming out" party at the fest.
What I think is extra cool about this fest is that it benefits Camp Casey, which is a horseback riding camp for kids with cancer. Seriously, could it be any more win-win?
Speaking of win, check out some of the brewpubs that will be in attendance: Arbor Brewing, Arcadia, New Holland, Brewery Vivant and Dark Horse. In addition to the beers, there will be local vendors including Chuck & Dave's Salsa, which will feature beer-inspired food samples. More win!
So what precipitated this event? Well, straight from the horse's mouth (i.e. Jason Dristan - Beer Fest Co-Founder): "We recognized Metro Detroit did not have a true Beer Fest during the winter and wanted to fill that void. This is the third year we have scheduled it the weekend between the NFL Championships and the Super Bowl. It is the perfect answer to cure the 'winter blues'." Yes, yes it is!
The event starts at 8 p.m. and goes until midnight. The ceremonial keg tapping will be at 9 p.m. and feature representatives from Camp Casey, Westborn Market and the city of Royal Oak. They will tap a special Michigan Brewing Co. Winter Cask Ale.
Tickets are $35 in advance or $40 at the door. You will get 25 beer samples, you will help out a great cause, and you will satisfy your palate. Did someone say something about win...?
Here are some picture of last year's festival. Because these pictures are awesome, you should by now know that they were most certainly not taken by me! (Thanks to Dana from On the Rocks Detroit!)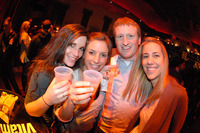 Patti Smith is a teacher and beer brewer/blogger. Come out and say hi to her at the Reskilling Festival on Feb. 4!