Posted on
Tue, Aug 21, 2012 : 11 a.m.
Moroccan bread salad - cumin and citrus take this side dish in a different direction
By Mary Bilyeu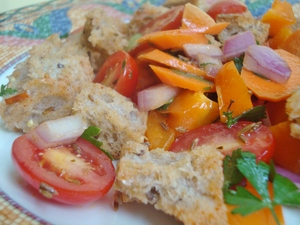 Mary Bilyeu | Contributor
Salads are a fabulous way to use up leftover bread. Italian Panzanella, Middle Eastern Fattoush ... they're wonderful!
But I wanted something a bit different last week, when I had some leftover bread from The Mother Loaf, which makes artisan sourdough breads. Each time I stop at their table at the Dixboro Farmers' Market, I buy something new. First was a beautiful caraway-topped rye, and most recently a multigrain sourdough with a tender crumb and chewy/crunchy crust.
Jeremiah (the baker) and Stephanie (the charming hostess at their farmers' market table) are my friends and neighbors who offer amazing things, from a sweet, lemony, cake-like zucchini bread to a gorgeous foccaccia with goat cheese, pine nuts, and three varieties of homegrown tomatoes. There is always some new, inspired treat, depending upon what's available in their garden or what strikes their fancy.
But one skinny girl can't eat an entire loaf of bread by herself, no matter how valiantly she may have tried. I spent that entire weekend writing, with two major deadlines staring me down; so I worked alone to limit distractions, thus also denying me any dining companions. Not wanting the last of my multigrain bread to go to waste, I thought about the prospect of a salad but didn't want to resort to the usual suspects no matter how much I love them. And so, I thought I'd take some of my favorite Moroccan flavors — cumin, carrots, citrus — and modify a traditional bread salad with them.
Breads of all kinds are essential to the Moroccan diet, eaten at most meals and often made at home. An old proverb states that one should "manage with bread and butter until God sends honey." But we're managing very happily with the gorgeous breads from The Mother Loaf, and with this salad.
Moroccan Bread Salad
2 cups 1-inch bread cubes (use a good, crusty variety)
1 medium carrot, peeled, sliced thin
1/3 cup chopped pepper (orange, red or yellow)
1/3 cup chopped red onion
1 cup halved grape or cherry tomatoes
1/4 cup chopped parsley
1 tablespoon extra-virgin olive oil
1 tablespoon lemon juice
juice from half an orange
1/4 tablespoon cumin seed
1/2 teaspoon harissa powder
pinch of kosher salt
In a large bowl, stir together the bread, carrot, pepper, onion, tomatoes, and parsley. In a small bowl, whisk together the remaining ingredients; pour over the salad, toss, then serve immediately.
Serves 2 as an entree or 4 as a side dish.

Mary Bilyeu writes for AnnArbor.com on Tuesdays, Wednesdays, and Fridays, telling about her adventures in the kitchen - making dinner, celebrating holidays, entering cooking contests, meeting new friends ... whatever strikes her fancy. She is also on a mission to find great deals for her Frugal Floozie Friday posts, seeking fabulous food at restaurants on the limited budget of only $5 per person. Feel free to email her with questions, comments, or suggestions: yentamary@gmail.com.

Go visit Mary's blog — Food Floozie — where she enthuses and effuses over all things food-related; and look for her monthly articles in the Washtenaw Jewish News. "Like" her on Facebook, or send a tweet on Twitter, too.

The phrase "You Should Only Be Happy" (written in Hebrew on the stone pictured in this post) comes from Deuteronomy 16:15 and is a wish for all her readers - when you come to visit here, may you always be happy.