YOU SHOULD ONLY BE HAPPY ....
recipe:

Moroccan spiced carrots - simple recipe adds spice to an ordinary vegetable

Posted on Wed, Jun 20, 2012 : 3 p.m.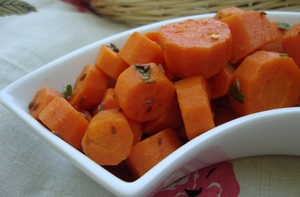 Mary Bilyeu | Contributor
I love Moroccan food, with its vibrant and exotic flavors. It doesn't have to be complicated to prepare, even if traditional recipes might require special equipment or long cooking; techniques can be adapted and modernized.
But this gorgeous, simple recipe requires nothing fancy or expensive. And it rewards you with a slightly spicy tingle complementing the sweetness of the carrots, and the ease of being able to serve it at any temperature — it can therefore be prepared right before serving or well ahead of time, whatever suits your schedule.
These spiced carrots can accompany virtually any dish, and are perfect for a picnic or a barbecue. Try them! Who knew plain ol' carrots could be so easily transformed into something so delicious?
Moroccan Spiced Carrots
(slightly adapted from a recipe in The International Kosher Cookbook by The 92nd Street Y Cooking School)
1/2 pound carrots, peeled, cut into 1/2-inch slices
1 tablespoon fresh lemon juice
1/8 cup extra-virgin olive oil
1/2 tablespoon smoked paprika
1/4 teaspoon cumin seed
generous pinch of kosher salt
generous pinch of red pepper flakes
1 tablespoon snipped fresh parsley
Place carrots in a medium saucepan and cover generously with water. Bring to a boil, then cook for 10-15 minutes until tender; drain.
Combine the remaining ingredients in a medium bowl; add the carrots, stir to coat. Serve warm, at room temperature, or chilled.
Serves 4-6 as a side dish.

writes about her adventures in the kitchen - making dinner, celebrating holidays, entering cooking contests ... whatever strikes her fancy. She is also on a mission to find great deals for her Frugal Floozie Friday posts, seeking fabulous food at restaurants on the limited budget of only $5 per person. Feel free to email her with questions or comments or suggestions:
yentamary@gmail.com
.
You should visit Mary's blog — Food Floozie — on which she enthuses and effuses over all things food-related. And be sure to look for her monthly articles about holiday foods and traditions in the Washtenaw Jewish News.
The phrase "You Should Only Be Happy" (written in Hebrew on the stone pictured in this post) comes from Deuteronomy 16:15 and is a wish for all her readers - when you come to visit here, may you always be happy.