peggy lampman's dinnerfeed
recipe:

Double Chocolate Chip Pancakes with Strawberry Syrup a fitting treat for Mother's Day

Posted on Thu, May 10, 2012 : 10:31 a.m.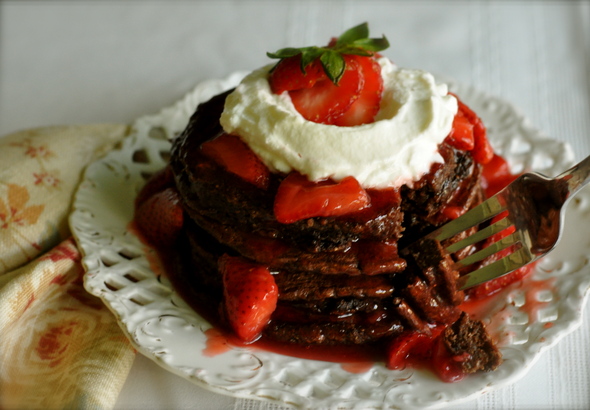 Peggy Lampman | Contributor
Mother's Day is this Sunday, and what mom wouldn't be thrilled to have Double-Chocolate Chip Pancakes oozing with Strawberry Syrup served to her.
Decadent? You bet. Healthy? You can check off that category, too. For this is, indeed, a super-food recipe for super-moms; the ingredient list is chock full of such nutrient rich, power-house fare that mom might even be up for a hike in The Arb after breakfast.
I love the idea of chocolate chip pancakes, especially loving the idea of having them served to me in bed. But I also love not feeling weighted down first thing in the morning, and fitting into my jeans. After googling healthy pancake recipes to death, I stumbled upon a recipe from the web site, Cravings Gone Clean.com, that looked intriguing — certainly worth a spin around my kitchen. And indeed it was.
It begins with gluten-free quinoa flakes, which I used in place of flour. Quinoa has been a staple in my diet for years; I love the poppy texture and protein-rich health properties. But I've never tried quinoa flakes, which — according to Ancient Harvest website — is quinoa steam-rolled into a quinoa flake. Quinoa flakes are often used as a substitute for flour when baking.
The original recipe included a peanut butter syrup, but with strawberries coming in season, I couldn't resist making a honey-berry based syrup, and raw, unfiltered honey has strong antioxidants. Also, some believe that the pollen in honey works as a vaccination, building immunities to allergies.
I'm a believer; honey has helped my allergies. But here's the catch; it's important to purchase honey as close to where you live as possible.If you suffer from allergies in Ann Arbor, it won't help your symptoms if you eat honey with spores of flowers from Tacoma, for instance.
I purchased my honey (
Bee Sweet & Healthy
, produced in Jackson), indeed all of the ingredients for this recipe, from
Arbor Farms
. The Ann Arbor Farmers' Market,
People's Coop
and
Whole Foods
sell Michigan-produced honey, as well. The batter was a tad bitter for my palate, so I added organic sugar. But keep it sugar-free if you prefer; you may find the syrup is all you need to sweeten up the pancakes.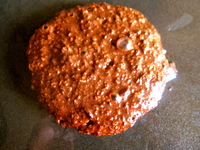 There are other goodies in the recipe.
According to the Cleveland Clinic web site
, cocoa bean is rich in flavonoids, a class of plant nutrients. Therefore, dark chocolate and cocoa may protect your cardiovascular system, but over-processing cancels out the nutritious benefits.
Chia seeds
are a great source or fiber and Omega 3s, and easily incorporated into a variety of recipes. Refined coconut oil has no hydrogenated fat, and its neutral flavor is perfect for baking.
Since I was making a mess anyway, I doubled the batch and froze the extras. I've been reheating them in the toaster oven all week for quick pick-me-ups, and the accompanying strawberry syrup is better than ever after a week's confinement in the fridge.
Who said mom can't have her cake and eat it too? If you make these pancakes you will be nurturing her soul as well as her health. Happy Mother's Day!
Ingredients
Strawberry Syrup (recipe follows)
6 tablespoons plain non fat Greek yogurt, plus additional yogurt for garnish
1 3/4 cup egg whites
1 cup vanilla soy or almond milk
1 1/4 cup quinoa flakes
1/4 cup chia seeds
2 teaspoons baking powder
6 tablespoons unsweetened dark cocoa powder
1/4 cup cacao nibs*
1/4 cup semi-sweet dark chocolate chips
1/4-1/2 cup organic sugar, optional
Refined coconut oil as needed
*I used cocoa nibs made in Dexter, which provide great texture. May substitute with additional chocolate chips, if desired.
Directions
1. Make Strawberry Syrup, recipe follows.
2. Preheat oven to 200 degrees.
3. In a bowl or large measuring cup, whisk together yogurt, egg whites and milk. In another large bowl, combine quinoa flakes, chia seeds or flax meal, baking powder, cocoa powder, cocao nibs and chocolate chips.
4. Slowly pour yogurt combination into dry mixture, continuously stirring, until desired consistency of batter is reached; mix well. Stir in sugar to taste, if using. (Note that mixture will thicken slightly as it sits. For thicker pancakes, use less wet mixture. For thinner pancakes, use all of wet mixture. Before adding all of the wet mixture, fry a mini-cake to judge, if desired.)
5. Heat 1 tablespoon oil over medium heat in a griddle or sauté pan. In batches, pour or scoop batter into oil to desired pancake sizes and let cook until small bubbles begin to form on cake. With a spatula, carefully flip cake and continue cooking another minute until cooked through. Place on lined sheet pan or oven-safe dish, and put in oven to keep warm. Finish the batch, adding more oil as needed. Serve with syrup and a dollop of yogurt.
Ingredients for Strawberry Syrup
1 teaspoon corn starch
2 tablespoons lemon juice
2 tablespoons orange juice
1 pound strawberries, hulled and sliced
1/2 cup honey
Instructions for Strawberry Syrup
1. Whisk corn starch into lemon and orange juices, and let sit a couple of minutes.
2. Whisk juice mixture into honey. (It will liquify further when heated.)
3. Place strawberries and juice mixture in a heavy-bottomed pan and, over medium heat, cook until thickened, occasionally stirring, about 15 minutes. (Will keep at least a week, refrigerated.)