Posted on
Wed, Dec 15, 2010 : 8:01 a.m.
No-bake Nanaimo bars will keep your spirits bright
By Jessica Webster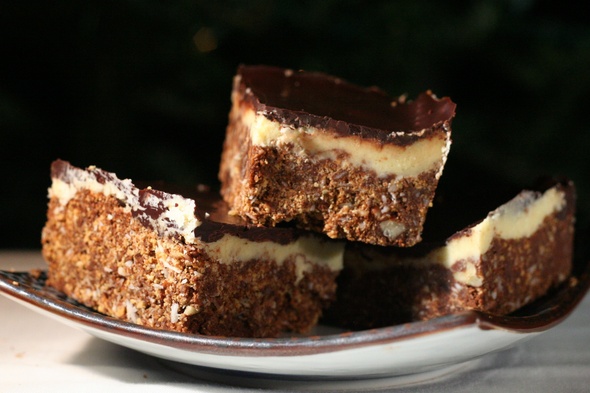 Jessica Webster | AnnArbor.com
How can Christmas be just over a week away? I haven't written Christmas cards! I haven't baked! I don't have all the Christmas music playlists loaded up on the iPod!

This is the time of year when I reflect back on all the wonderful memories of my childhood Christmases and feel guilty that I'm not providing the same Norman Rockwell experience for my child. My mom and grandmothers always baked dozens of delicious cookies each year for Christmas. My mom worked with me to make homemade gifts for all my relatives. We decorated the tree while sipping hot chocolate and listening to Joan Baez singing Christmas carols. It was idyllic.
These days? Well, we got the tree up. I couldn't find the Joan Baez record, so we listened to the three jazz Christmas records I had loaded on my laptop while we decorated the house. We'll probably just sign the 8 year old's name to our gifts to family unless I can find an afternoon and some raw materials to help him make his own gifts.
But cookies? I will not neglect the cookies this year.
My mother was born in The Netherlands, so many of our holiday traditions come from there. Boterkoek, banket and oliebollen all make regular appearances at holiday gatherings. But after immigrating to Toronto when my mother was a child, her family also adopted Canadian holiday customs. Among my favorites is the Nanaimo bar.
What's a Nanaimo bar, you ask? Legend has it they were dreamed up by a housewife named Mabel in Nanaimo, British Columbia 60 years ago. Her recipe made it into a cookbook that was sold in tourist shops, and the cookie's fame quickly spread across Canada. It was even dubbed "Canada's Favourite Confection" by readers of a national newspaper.
There are many variations on the Nanaimo bar, but the basic recipe calls for a layer of graham cracker crumbs, pecans, cocoa powder and coconut bound together with butter, a middle layer of butter cream frosting, all topped with a layer of dark chocolate. Some recipes call for bittersweet chocolate, but my family has always used unsweetened. There is enough sugar in the bottom layers to sweeten the cookie.
When eating your Nanaimo bars, I recommend listening to jazz chanteuse Diana Krall. She's Nanaimo's other famous export. Try her lush Christmas album or her delicious tribute to Nat King Cole which features Ypsilanti bassist Paul Keller.

Nanaimo Bars
Bottom Layer
1/2 cup butter
1/4 cup white sugar
5 tablespoons cocoa
1 teaspoon vanilla
1 egg
1 cup coconut
1/2 cup chopped pecans
2 1/2 cups graham cracker crumbs
Middle Layer
3 tablespoons milk
1/4 cup melted butter
3 tablespoons instant vanilla pudding mix
2 cups confectioners sugar
Top Layer
4 ounces unsweetened baking chocolate
1 tablespoon butter
1. Place a mixing bowl in hot water and add butter, sugar and cocoa. Cream well and add vanilla and egg. Mix until smooth. Add graham cracker crumbs, coconut and nuts and mix well. Pack in greased 9-inch square pan.
2. Mix the middle layer ingredients and spread over the bottom layer.
3. For the top layer, melt chocolate, add butter and mix. Spread over the middle layer and refrigerate.
Cut into squares with a knife heated in hot water.
Jessica Webster leads the Food & Drink section for the AnnArbor.com community team. You can reach her at jessicawebster@annarbor.com.