Posted on
Tue, Jun 21, 2011 : 8 a.m.
National Peaches and Cream Day
By Mary Bilyeu

Today is
National Peaches 'n' Cream Day
. What a fabulous thing to celebrate!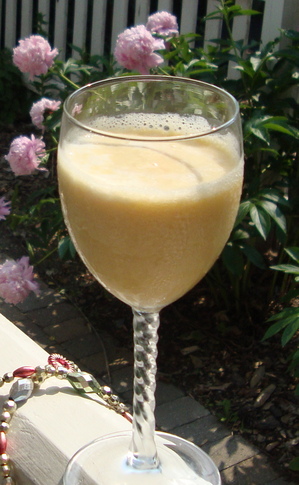 There are a lot of culinary matches that were made in heaven — peanut butter and jelly, spaghetti and meatballs, chocolate chip cookies and milk — and the pairing of lusciously ripe peaches with rich cream ranks right near the top of the list.
But I didn't want to just offer a recipe for sliced peaches with whipped cream, or tell you to simply buy a container of peach ice cream — those would have been boring.
At the same time, I also didn't want to give you recipes for cake layers, whipped cream frosting, and all sorts of complicated and labor-intensive efforts that would detract from the simple beauty that is peaches and cream.
And so, I offer something ridiculously simple and yet still seductive: a store-bought prepared peach daiquiri paired with vanilla ice cream, to make a rich dessert-like drink... peaches and cream with a kick!
Peaches 'n' Cream Daiquiri
2 cups vanilla ice cream
2 cups Daily's prepared peach daiquiri, at room temperature (available near the freezer section); substitute milk, if desired
1 cup peach sorbet
peach slices for garnish, optional
Place ice cream, prepared daiquiri (or milk), and sorbet in a blender and whir until smooth and frothy. Garnish with peach slices, if desired, and serve immediately.
Serves 2.
Mary Bilyeu has won or placed in more than 60 cooking contests and writes about her adventures in the kitchen. She was thrilled to have her post about Scottish Oatmeal Shortbread named as one of the daily "Best of the Blogs" by the prestigious Food News Journal.
Go visit Mary's blog — Food Floozie — on which she enthuses and effuses over all things food-related. Her newest feature is Frugal Floozie Friday, seeking fun and food for $5 or less ... really! Feel free to email her with questions or comments or suggestions: yentamary@gmail.com.
The phrase "You Should Only Be Happy" (written in Hebrew on the stone pictured at the top of this post) comes from Deuteronomy 16:15 and is a wish for all her readers as they cook along with her ... may you always be happy here.