YOU SHOULD ONLY BE HAPPY ....
recipe:

Make this sundae for National Pecan Sandies Day

Posted on Thu, Jun 23, 2011 : 10 p.m.

Yet another food holiday — I love it! Each day there is a reason to celebrate food, though some festivities — like National Strawberry Shortcake Day — are more fun than others (Feb. 29: National Frog Legs Day).

Today is National Pecan Sandies Day: a tribute to those fabulous shortbread cookies which are rich with both butter and toasted nuts. Perfect with iced tea or milk or coffee, they really require no embellishment. And yet....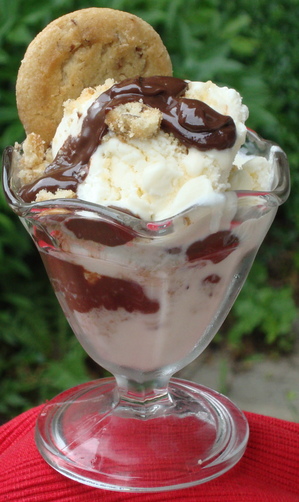 Mary Bilyeu, Contributor
It seemed a shame to just leave the cookies sitting on a plate, looking forlorn. Why not dress them up a bit for their big day? I debated whether to crush some to form the crust of a pie or cheesecake, but it seemed that this would hide them rather than letting them shine in the spotlight.
And so, I compromised: I crushed a few cookies to disperse them throughout a sundae, letting their crunch and flavor complement the simple beauty of a good quality vanilla ice cream, and letting their natural affinity for chocolate play a role, as well.
But then, for use as both garnish and dipper, I left a sandie intact for each serving. It is National Pecan Sandie Day, after all, not Cookie Crumb Celebration Day ....
Pecan Sandie Sundae
4 cups vanilla ice cream
1-1/3 cups Sanders milk chocolate hot fudge, slightly warmed
12 pecan sandies
Place half-cup ice cream into each of 4 serving dishes, then drizzle with a few tablespoons of hot fudge.
Reserve 4 cookies for garnish, then crush the remaining cookies. Divide half of the crumbs among the ice cream servings.
Divide the remaining ice cream among the serving dishes, then sprinkle the rest of the crumbs over it. Pour the remainder of the hot fudge sauce over the tops of the desserts, and garnish each with a whole cookie.
Serves 4.

has won or placed in more than 60 cooking contests and writes about her adventures in the kitchen. She was thrilled to have her post about Scottish Oatmeal Shortbread named as one of the daily "Best of the Blogs" by the prestigious Food News Journal.
Go visit Mary's blog — Food Floozie — on which she enthuses and effuses over all things food-related. Her newest feature is Frugal Floozie Friday, seeking fun and food for $5 or less ... really! Feel free to email her with questions or comments or suggestions: yentamary@gmail.com.
The phrase "You Should Only Be Happy" (written in Hebrew on the stone pictured at the top of this post) comes from Deuteronomy 16:15 and is a wish for all her readers as they cook along with her ... may you always be happy here.