Posted on
Tue, Jun 14, 2011 : 8:30 a.m.
National Strawberry Shortcake Day
By Mary Bilyeu

I really don't need to work at selling this recipe — is there any summer dessert more beloved than
Strawberry Shortcake
, that this could possibly need my persuasive assistance? I think not!
You could buy some pre-made shortcakes at the grocery store, but they're so exceedingly inferior that I can't condone it. If you do so, please don't tell me.
And it's so ridiculously easy to make your own shortcakes — which are essentially biscuits — that there's just no way to justify not baking from scratch.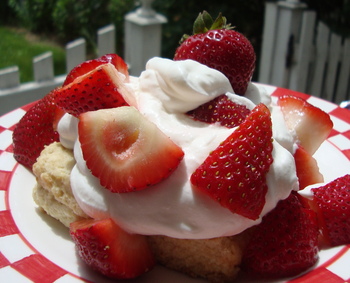 Mary Bilyeu, Contributor
The "short" in shortcake refers to the gluten strands, just in case you were wondering. Rather than the high-gluten flours that you want to use for baking yeast breads, which provide the fabulous texture we all crave — thus making gluten-free breads an art unto themselves, lacking that key ingredient — gluten is the enemy of a flaky, crumbly shortcake.
Lots of fat (in my recipe, both butter and sour cream ... 'cause that's the kinda girl I am!) mixed into the flour keeps the gluten strands short, making for tender baked goods. I also like to add some lemon zest, for a bright flavor that complements the rich cream and sweet strawberries perfectly.
You could also buy a can of whipped cream, but homemade is infinitely better. Sweeten it just a tad, and also put some confectioners' sugar to use in helping to stabilize it (rather than having it deflate quickly after you've whipped air into it).
What more can I say? Stop reading and go celebrate!
Strawberry Shortcake
Shortcakes:

1 & 3/4 cups unbleached all-purpose flour

2 teaspoons aluminum-free baking powder

3/4 teaspoon baking soda

1/2 teaspoon kosher salt

1/8 cup sugar

1/4 cup butter, softened

1/4 cup sour cream

1/4 cup milk

Zest of 1 lemon
Berries:

2 quarts strawberries, hulled, chopped

2 tablespoons sugar
Cream:

1 pint heavy cream

4 tablespoons confectioners' sugar

3 tablespoons sugar

1/2 teaspoon vanilla extract
Shortcakes: Preheat oven to 425 degrees. Lightly grease a baking sheet.
Place the flour, baking powder, baking soda, salt, and sugar into a large mixing bowl. With a fork, mix in the butter and the sour cream until the mixture is crumbly. Stir in the milk and lemon zest.
Place the dough onto the prepared baking sheet, and knead just until it comes together. Pat into a rectangle a half-inch high, and cut into 6 portions. Separate the portions, then bake the shortcakes for 15 minutes until golden. Let cool.
Berries: Combine the berries and the sugar in a medium bowl, and let rest for 30 minutes.
Cream: Place the cream, sugars and vanilla into a large mixing bowl. Using an electric mixer, beat until the cream holds peaks.
Assemble the dessert: Place a shortcake onto a dessert plate. Top with whipped cream, then top that with strawberries. Serve immediately.
Serves 6.
Mary Bilyeu has won or placed in more than 60 cooking contests and writes about her adventures in the kitchen. She was thrilled to have her post about Scottish Oatmeal Shortbread named as one of the daily "Best of the Blogs" by the prestigious Food News Journal.
Go visit Mary's blog — Food Floozie — on which she enthuses and effuses over all things food-related. Her newest feature is Frugal Floozie Friday, seeking fun and food for $5 or less ... really! Feel free to email her with questions or comments or suggestions: yentamary@gmail.com.
The phrase "You Should Only Be Happy" (written in Hebrew on the stone pictured at the top of this post) comes from Deuteronomy 16:15 and is a wish for all her readers as they cook along with her ... may you always be happy here.