Posted on
Mon, Jul 9, 2012 : 11 a.m.
Celebrate National Sugar Cookie Day with this classic recipe
By Mary Bilyeu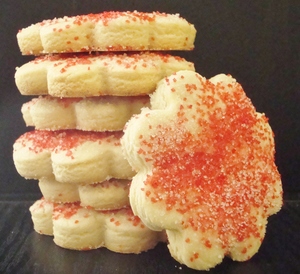 Mary Bilyeu | Contributor
It's hard to go wrong with simple, sweet sugar cookies - they're perfect for any occasion, from a picnic to a party, and everyone loves them. They can be decorated for any festivity, so these are ideal for baby showers or holidays.
Really, what more can I say? Bake a batch of cookies! They'll make you happy. And don't we all need a little bit more of that?
Sugar Cookies
1/2 cup butter, at room temperature
1/4 cup sugar
1/4 cup brown sugar
1-1/2 tablespoons half-and-half, plus extra for brushing
1 teaspoon vanilla extract
1 egg
2 cups flour
1/2 teaspoon kosher salt
1 teaspoon aluminum-free baking powder
sprinkling sugar, colored or plain
Preheat oven to 350 degrees.
Cream together butter and sugars; stir in half-and-half, vanilla extract, and egg. Add flour, salt, and baking powder; mix well.
Turn mixture out onto a lightly floured countertop and knead just until dough holds together. Roll out to about 1/3-inch thickness, then use a 2-1/2-inch cookie cutter to cut out rounds; place onto an ungreased cookie sheet, spacing cookies 2 inches apart. Brush lightly with half-and-half, then sprinkle with sugar.
Bake for 10 minutes until edges of cookies are just turning golden. Remove to a rack and cool completely.
Makes 20 cookies.

Mary Bilyeu writes about her adventures in the kitchen - making dinner, celebrating holidays, entering cooking contests ... whatever strikes her fancy. She is also on a mission to find great deals for her Frugal Floozie Friday posts, seeking fabulous food at restaurants on the limited budget of only $5 per person. Feel free to email her with questions or comments or suggestions: yentamary@gmail.com.

You should visit Mary's blog — Food Floozie — on which she enthuses and effuses over all things food-related. And be sure to look for her monthly articles about holiday foods and traditions in the Washtenaw Jewish News. Find her on Facebook and Twitter, too.

The phrase "You Should Only Be Happy" (written in Hebrew on the stone pictured in this post) comes from Deuteronomy 16:15 and is a wish for all her readers - when you come to visit here, may you always be happy.