Posted on
Thu, Nov 18, 2010 : 11:29 a.m.
Natural Beaujolais producers made great wine in 2010
By Matt Morgan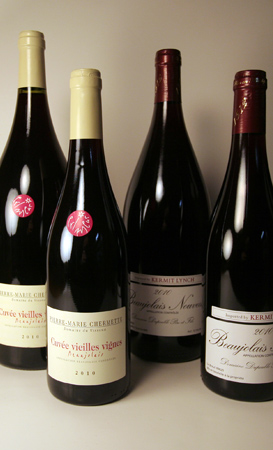 The 2010 harvest in Beaujolais was reputed to be a challenging one —the early reports on the harvest were that it was cool, behind schedule and headed for disaster. Some estimates put the anticipated harvest about three weeks behind the average date.
For whom was this bad news? Certainly the 'King of Beaujolais,' Mr. Georges Duboeuf, cannot have been pleased, as his years of lobbying to speed up production have left many growers and Duboeuf participating in a system where they are already picking grapes whose ripeness is suspect, and Mother Nature did not help them to meet their deadlines this year. Duboeuf, a tireless promoter of the wines of the region, certainly has raised awareness of the wines, but the product that ends up in the bottle ultimately does Beaujolais no favors.
I spoke to Chris Santini at the Kermit Lynch Wine Merchant Beaune office about the political and financial changes that have altered the production, and ultimately the flavorm of the early-bottled Nouveau wines.
Santini helped clarify a rumor that Duboeuf had convinced the French government to allow earlier than ever harvests this year. What Duboeuf has done is slightly different, having more to do with when growers can sell their grapes to a producer like Dubouef, who buys grapes to make his Nouveau:
What Duboeuf did was ask for an earlier "deblocage" date. The deblocage is the date when negociants can legally buy the new vintage from growers, and transport that wine from the grower's domaine to the negociant's site. The deblocage date was historically around Oct. 28 for decades, and several years ago Duboeuf managed to move the date up to Oct. 12, by using his clout in the region. The interest by him in the earlier date is to be able to ship the Nouveau by boat. Growers like Dupeuble are outraged by the early date because in order to have wine ready to sell to Dubeouf that early, producers are forced to deacidify and block malos. The resulting wine that gets sent out only further damages the image of Beaujolais Nouveau.
So, to de-technify that quote a little: as grapes ripen, sugar level rise, acidity drops, and all sorts of tasty aromatic and flavorful compounds form in the ripening skins. 'Malos' are the malolactic fermentations, a necessary winemaking process for cool climate reds that converts the mouth-puckering malic acid naturally present (this is what gives a green apple its tart flavor) to softer lactic acid. If one picks before the grapes are ripe, acid levels are too high, sugar levels are too low, and the overall flavor is not as complex or as interesting as that of wine made from ripe fruit. The winemaker has to chemically reduce the acidity, add sugar to boost the body and use a contrived fermentation process involving laboratory yeast strains to ferment the wine. The result is a weirdly disjointed mess in the glass.
But hey, at least you can ship it earlier, by boat instead of air and save (or make) a bunch of money!
There are, as I mentioned, producers who do not torture their grapes this way. Lynch and his fellow importer Peter Weygandt represent two of these fine producers, and they are worth seeking out. These producers waited the extra weeks needed to harvest ripe grapes, by hand. Only the natural yeasts that live on the grapeskins were used to ferment the wine, and the finished product was bottled unfiltered.
Domaine Dupeuble, 2010 Beaujolais Nouveau :
Nice color, a bit deeper purple than I expected to see. Fresh, almost effusively lively style, loads of succulent strawberry fruit, underlaid by some beguiling tobacco notes. The great acidity of the 2010 vintage is present and beguiling. Very nice complexity, a hint of CO2 remains in the unfiltered bottling. This wine is produced with little to no sulfite and is not recommended for cellaring — drink this within the next six months.
Domaine de Vissoux, 2010 Beaujolais Primeur Vieilles Vignes
Old vines, a mix of parcels from within and without Pierre Chermette's holdings in Moulin-a-Vent and Fleurie, two of the top sites in Beaujolais. The vines selected are 30+ years old, and it shows in the concentration of the fruit, as well as the more pronounced tannic structure. Darker in color than Dupeuble, and drinks more like a Beaujolais Cru (a wine from one of the top named and delimited areas.) Dark cherry, some hints of pepper and a resonant savoriness. Again, the 2010 raciness outlines the wine.
Both of the above wines are excellent choices with Thanksgiving fare, as they have less tannin than many red wines and plenty of fruit. Turkey is a relatively lean meat, and you should be careful pairing wines that are too tannic or heavy, as they will make your bird taste dry.
It's also worth mentioning that both of these producers handpick their grapes, farm organically and let the natural yeasts that settle on the grapeskins ferment the grape juice into wine. Little or no sulfite is added, only at bottling.
I briefly mentioned the Beaujolais Crus above, and that could be the subject of a whole separate post. If you've never tried the complex and delicious gamay wines form Morgon, Moulin-a-Vent, Fleurie, Cote de Brouilly or the other named sites in Beaujolais, you're missing out. There's nothing better with a grilled steak.

NB: portions of this post appeared on AnnArbor.com in November 2009.
Matt Morgan is co-owner of Morgan & York, Fine Wines and Specialty Foods in Ann Arbor. He blogs about food and wine for AnnArbor.com, and can be reached at 'matt' at 'morganandyork.com'