Posted on
Thu, Jul 14, 2011 : 8:45 a.m.
Drink like an Italian with this classic Negroni cocktail recipe
By Jessica Webster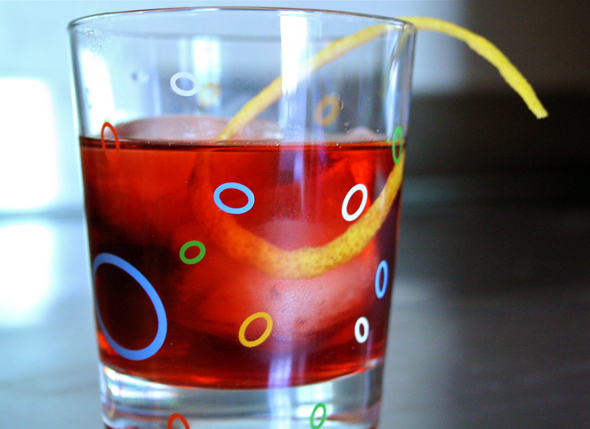 Jessica Webster | AnnArbor.com
I've been pondering the great movie "Breaking Away" lately. The main character is so totally enamored of Italian culture that he puts on a fake accent and pretends to be an Italian exchange student. Now I haven't created an Italian alter ego yet, but my love for Italy borders on the obsessive.
How can you not love a culture that so lustily celebrates the finer things in life? Opera, art, fashion and food. Oh the food. So when I recently read a blog post on BonAppetit.com called "How To Drink Like An Italian," I sat right up and took notice.
"Italians drink differently than we do," explained Bon Appetit restaurant and drinks editor Andrew Knowlton. "They sip, stir, linger over low-octane cocktails."
This sounded perfect to me. While I love a well-crafted cocktail, I feel tipsy after just one drink. With this new perspective on imbibing, the idea of sipping, savoring and lingering over a single drink will make me feel like a sophisticated Italian and not a lame lightweight. Win!
Of the classic Italian cocktails described in the blog post, the one that spoke the loudest to me was the Negroni. Brilliant red in color, thanks to the Campari, the drink was described as "slightly bitter, slightly sweet." I've ordered a Negroni at several restaurants around town now (Mani Osteria has the best one I've tried so far), but I was anxious to try my hand at the cocktail at home.
It's hard to find a bad Negroni, according to Knowlton, since there are only three ingredients and they're mixed in equal parts. Inexperienced mixologist that I am, I was grateful to know that I had very little chance of totally messing this up. No egg whites, no crazy techniques. Just measure, mix and pour.
Since this is a very basic cocktail — there are no fruit juices or simple syrups to enhance the flavors — I decided to go top shelf: Plymouth gin and Vya sweet vermouth.
The vermouth recommendation came from Dan at Morgan & York. In addition to being an expert on all things booze, I will always love Dan for telling me my very favorite knock-knock joke. (Knock knock. Who's there? Dan. Dan who? Geez, it's Dan. Just let me in.) If he thinks it's worth a couple of extra bucks to splurge on this California-made vermouth that boasts warm and spicy notes, I'm taking his advice.
The Negroni turned out great. So great, in fact, that I am anxious for 5 o'clock to come so I can go home and make another one, and I never crave alcohol. It's a perfect drink for a hot summer evening on the deck, served with a handful of lightly salted almonds.
Ingredients:
2 ounces Campari bitters
2 ounces gin
2 ounces sweet vermouth
Ice
2 lemon or orange twists, or orange slices

Instructions:
Fill a cocktail shaker or small pitcher with ice. Add the Campari, gin and vermouth and shake or stir until chilled, then divide the liquid between two glasses. You can serve it up in a martini glass or over ice in a lowball glass. Garnish with lemon or orange twists, or a slice of orange for each glass.
Jessica Webster leads the Food & Drink for AnnArbor.com, and has an annoying habit of peppering her speech with Italian phrases. You can find her in the bike lane or via email at JessicaWebster@AnnArbor.com.